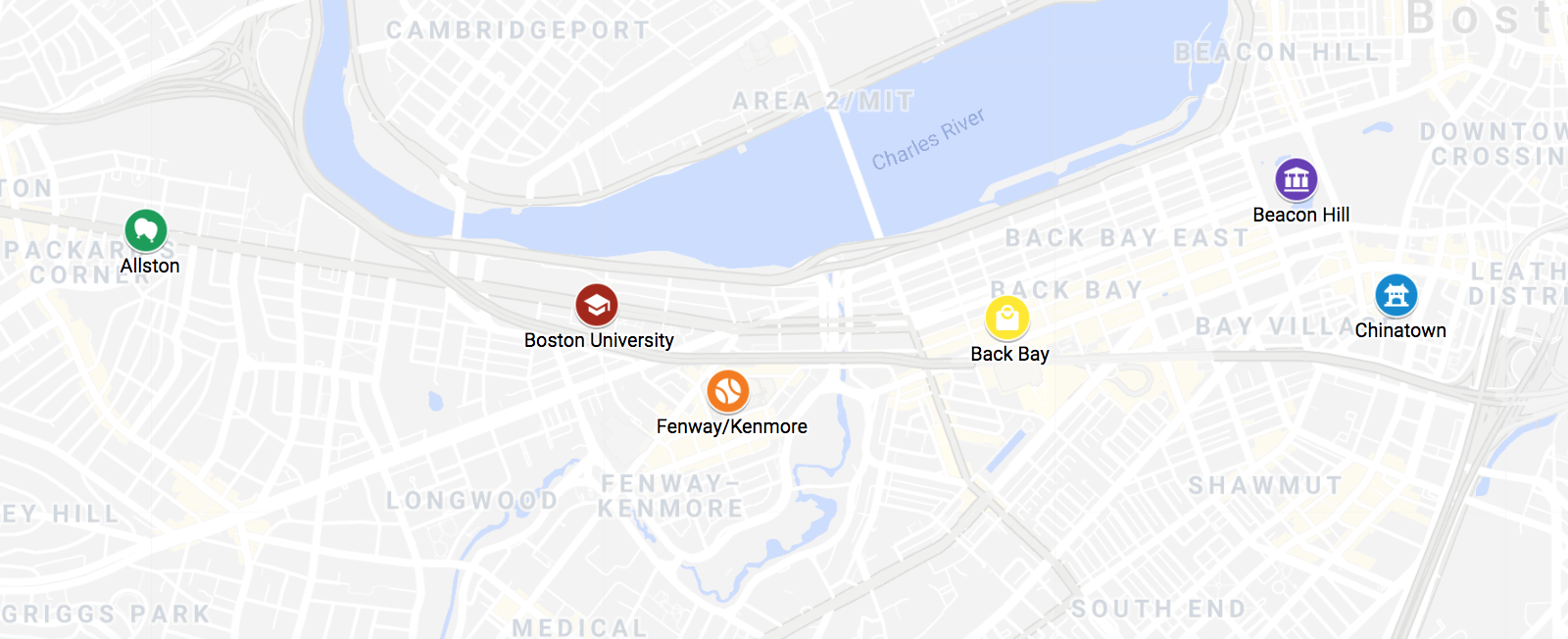 Boston University has the unique privilege of being located in the middle of the city of Boston, a short subway ride or rideshare trip to countless amazing restaurants, historical sites, cultural hubs and local landmarks.
To help you explore your new college home, here is a guide to a few of the neighborhoods surrounding BU. To access our interactive map of all our recommendations, click here.
(All directions are calculated from BU's East Campus)
Fenway/Kenmore
The home of the Boston Red Sox, Fenway Park is only five minutes away from BU's East Campus. During baseball season from March to November, the area is roaring with life, with regular crowds streaming to watch the team play.
The surrounding area has developed into its own distinct neighborhood filled with shops touting endless Red Sox memorabilia, roaring sports clubs, a movie theatre and a wide variety of food options. The area is also home to a large selection of stores college students may need, including a Target, Star Market and even a Marshalls.
For art lovers, the Boston Museum of Fine Arts boasts one of the most impressive art collections in the U.S., while the Isabella Stewart Gardner Museum is a cozier, more personal gallery.
Just north of Fenway is Kenmore Square, a massive intersection where four roads converge. Surrounding this crossing is a wide range of hotels and restaurants, where students can find anything from fast food to full-service restaurants.
How to get there: It's right off campus, just walk east down Commonwealth Avenue until you reach Kenmore Square. To get to Fenway, turn right from Kenmore onto Brookline Avenue.
Allston
Allston is an area where many students live and hold social events off campus. It is home to a wide range of small, locally owned restaurants with everything from trendy brunch spots to Asian fusion,
How to get there: Take the Green Line or the 57 bus outbound down Commonwealth Avenue, or just walk west past BU's West Campus.
Back Bay
Just past Kenmore Square is Boston's Back Bay neighborhood, defined by its brownstones and lively shopping offerings. Find an array of clothing, lifestyle, and food shops along and surrounding Newbury street.
The Prudential Center near Copley functions as your normal mall for those who would prefer a more traditional shopping experience.
The area around Copley Square also has many interesting sites, including the beautiful Boston Public Library or the Trinity Church.
How to get there: If you're willing to walk the one mile to Newbury street, head east down Commonwealth Avenue and turn right on Massachusetts Avenue. Otherwise, take the Green Line inbound to Hynes Convention Center or Copley station.
Chinatown
Whether you're looking for stores selling Asian goods, a small mom-and-pop bakery, or amazing Chinese food, Chinatown has it all. One local popular eatery is Gourmet Dumpling House.
How to get there: Take the Green Line inbound to the Boylston station and walk east down Boylston Street until you start seeing signs with Chinese words.
Beacon Hill
A picturesque community filled with charming brick row-houses and historic gas lamps, Beacon Hill is one of Boston's most photographable neighborhoods. The area is also home to the gold-domed Massachusetts State House and many other buildings with major historical value.
For those wanting a break from Boston's urban jungle, check out the beautiful Boston Public Gardens and Boston Common. Whether you ride on a swan boat during the summer, enjoy the colors of fall, ice skate during the winter or smell the flowers of spring, there's something to do all year.
How to get there: To get to the Boston Public Gardens and Boston Common, take the Green Line inbound to Boylston station.