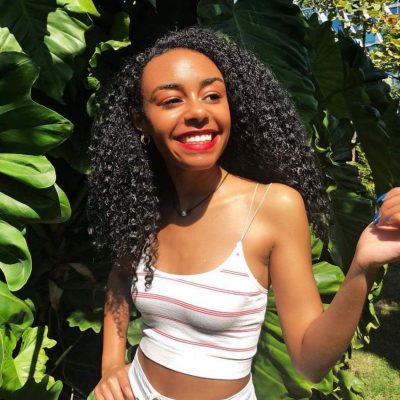 Erin Edwards, a Boston University junior in the College of Communication, died this week after a tragic family incident. She is remembered by her friends and peers as an active member of the BU community and as a selfless and intelligent young woman.
BU Dean of Students Kenneth Elmore said Edwards, 20, was someone who always lit up the room and was "incredibly present."
"She's the kind of person who walked into a room and people will ask 'who is that?'" Elmore said. "She was a good student and her professors all say she was one of the most engaged and smartest students that they had in their classes."
Edwards, along with her 24-year-old brother Christopher Edwards Jr., were allegedly killed by their mother, Marsha Edwards, 58, Wednesday night, according to CNN. Both Erin and Christopher died from gunshot wounds, CNN reported, and their mother died from an apparent self-inflicted gunshot wound.
The Mayor of Atlanta, Keisha Lance Bottoms, tweeted out a statement Thursday expressing her condolences to the Edwards family. 
"Dereck and I join the greater Atlanta community in mourning the loss of three members of the beloved Edwards family," the Tweet read, "Chris and Erin were beautiful, vibrant, and brilliant young adults whom we had the pleasure of knowing their entire adult lives."
Edwards attended BU as a Posse scholar, meaning she was selected out of students from the Posse Atlanta and Posse Bay Area for her extraordinary academic and leadership potential through BU's partnership with the Posse Foundation. For her accomplishments, she was awarded a full four-year scholarship to attend BU.
Edwards was a writer for the Daily Free Press since her freshman year at BU. In her time at the FreeP, she covered multiple rallies for immigrant rights, affordable housing, a vigil for Transgender Day of Visibility and more.
Sabrina Schnur, a senior in COM, worked with Edwards as an associate city news editor at the FreeP and said she was "a smiling face in every newsroom."
"No matter how hard the assignment or how late I kept her in the office for editing, she always wanted to learn more and be better," Schnur said. "Her work at NBC New York was only the beginning of an amazing career. She told stories with a smile and I hope the memory of her smile brings others some comfort in her passing."
Her journalism career extended far beyond the FreeP — this summer she worked as a digital intern for NBC New York and was an active member of the National Association of Black Journalists. 
NABJ president Dorothy Tucker shared her condolences for the Edwards family on Twitter. 
"The #NABJ family has lost three of our own," Tucker wrote. "Our prayers and thoughts are with the family, friends and colleagues of Marsha Edwards, Christopher Edwards II and Erin Edwards.This tragedy has claimed the lives of three members, but touches countless more."
Edwards was accepted as a First Year Student Outreach Program leader and would have returned to BU's campus Monday to guide first-year students in volunteer projects around Boston. 
Edwards was also an active member in the Howard Thurman Center for Common Ground and would have been a student ambassador for the coming school year, according to BU Today.
Yaa Amissah Aidoo, a 21-year-old Duke University student, met Edwards this summer while interning at NBC. Though they only knew each other for a few months, Amissah Aidoo said he felt as if the two were "old childhood friends."
"She was my sister from our first meeting," Amissah Aidoo said. "Erin was a light in this world that breathed passion and love into everything she touched. To be in her presence was to be blessed with a soul so kind and wise beyond her years and for that I am eternally grateful."
Edwards was also a DJ on the WTBU radio show "Man Eater," where her colleagues remember her as a "bright light and powerful force." They also shared a playlist in her honor.
"She brought comfort and laughter into our mornings, even though she was always late, we knew she'd come along, sometimes still in her pajamas, but ready to share joy," they wrote in a statement to the Daily Free Press. "A strong willed activist and empowering woman who is an inspiration to all of us. The ultimate definition of black girl magic."
"DJ Erin was always ready to share her opinions and feminist insight on our political talk segment 'Man Eater Meat', of which she was the designated hypewoman for," the 'Man Eater' team wrote. "She was always dancing to songs and radiating positive energy in the studio while also helping create a space where we could teach each other to be vulnerable."
Edwards' cousin, Aviana Major, 18, said she looked up to Edwards when they were young.
"She was really sweet," Major said. "She never had no bad attitude to nobody ever. She was so smart and she dressed really well. I was always jealous of her. She was funny. Her smile would light up the room. She really set the bar high. She always pushed me to do better in school."
Ryan Glover, a junior at the University of Pennsylvania, was friends with Edwards in high school and dated her for a period of time. Glover said Edwards was a hard worker who "believed in people even if they didn't believe in themselves."
"She was literally the perfect person," Glover said. "I always thought after knowing her all these years, I could never really think of a flaw because she was that great of a person. She could have been the first female president, or first black female president, she was that high of character." 
He said his favorite memory with Edwards is when they went to their homecoming dance together. 
"I remember driving to her house and picking her up for the dance," Glover said. "That was an amazing experience. At the end of the night, we ended up eating at Red Lobster and had a bunch of fun and laughed a lot. It was a great night."
Sydney Georges, a senior in Sargent College of Health and Rehabilitation Sciences, said Edwards was a selfless friend.
"She was more concerned about helping other people before herself," Georges said. "Her thing was just to help people and I could not give her more credit for that. Whether it was helping people with essays, resumes, or being a shoulder to lean on, she was there. She was the most amazing person and the brightest light. You didn't have to know her to start smiling when she walked in the room."