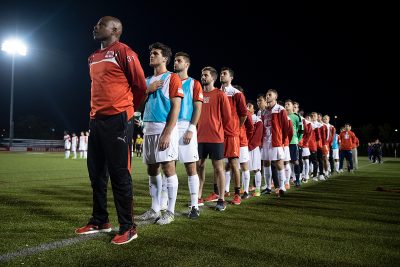 The 2018 season was a transitional one for the Boston University men's soccer team. Despite having a young roster and being plagued by injuries all season, it was likely the team would make it into the Patriot League postseason as the fourth seed. They fell to the U.S. Military Academy in the quarterfinals, losing for the third consecutive year on penalties. 
The team's star performers were senior forward Matt McDonnell and sophomore midfielder Kari Peturrson.
The team (5-10-4, 4-4-1 Patriot League) lost seven seniors at the end of the season, including senior goalkeeper Mike Bernardi and senior defender Josh Barkoff. Both were acknowledges with All-Conference Honors and senior defender David Riccio was named to the Academic All-Patriot League Team. 
Coach Neil Roberts goes into his thirty-fifth season with a young squad, with as many as nine freshmen. Sophomore attackers Kari Peturrson and John Siracuse will form a crucial component of the team's offense, along with the experienced striker Matt McDonnell. Question still remains around the defense and sophomore defender Nate Cole will have to ensure that Barkoff's absence isn't felt in the backline. 
The team is coming out of its transitional phase and Roberts said last November they will be hoping that last year served as a good growing opportunity for the underclassmen.
"It was a difficult year, but under the circumstances, the kids hung in there," Roberts said. "They fought, they attempted to do everything they could to be successful. There were parts of every game and little stretches where we played pretty well … coming down the stretch, it wasn't enough to do what we wanted to do."