Two years ago, Taylor Swift's "Look What You Made Me Do" conveyed an important message: the old Taylor was gone. The country-star-turned-pop-phenomenon was, as Swift said herself, dead. 
The only issue, according to sites like Metacritic, was that not everyone was thrilled. "Reputation" would go on to be Swift's worst received album yet, and the rebranding, while not affecting Swift's sales, didn't land.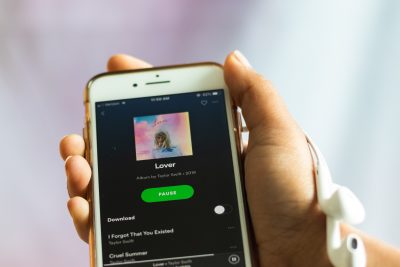 However, while the old Taylor may have died with "Reputation," the new one wouldn't be born until "Lover." 
"Lover," the seventh studio album from the 29-year-old artist, was released on Aug. 23.  On the day of its release, the album surpassed 3 million global consumption, which had the highest first-week sales of any 2019 album in its first 24 hours. 
The album also holds the highest first-week sales for a U.S. album ever, beating out 2017's "Reputation," according to Billboard. 
In other words, Swift is still a supremely successful artist, even a decade after her emergence into the music scene at 17-years-old. 
But "Lover" is a lot more than a seventh chart-topping record. It is a final destination. A complete end for the years-long transformation Swift has been undergoing across her most recent records. 
The album's sound is mostly within the poppy, country-inspired, singer-songwriter genre that Swift has been carving out for herself since "1989." The music doesn't do much to differentiate itself from a standard modern-day pop album, but it's certainly a new direction for Swift. 
Some of the tracks, like "Soon You'll Get Better," feature little more than an acoustic guitar. Some, like the opening track "I Forgot That You Existed" have no acoustic instruments at all. Most fall somewhere in between. 
The album's varied styles flow from track to track naturally. This is one of "Lover's" greatest triumphs. It is Swift's most cohesive album to date. Every song passes the baton to the next one with both ease and precision and not a single one feels out of place. 
After "I Forgot That You Existed," the synth heavy opening track, comes "Cruel Summer," which easily could have been one of the album's singles. It captures the tone and breadth of the album more than any other single track, putting Swift's songwriting skills and new, poppy style on full display. 
The title track, a slower, swinging number is a simple change of pace from the opening and the second track of the album that really shows off Swift's signature writing process. Another highlight is "Paper Rings," which falls about midway through the album.
The album features some of Swift's best writing to date. "London Boy," another track about halfway through the album is suspected to be about Swift's relationship with boyfriend Joe Alwyn and is notably lighter in tone. 
The back half of the album is particularly impressive in this way. "Soon You'll Get Better" and "False God," two tracks that fall back-to-back near the end of the album's one hour run, are two of Swift's best written songs to date. The former deals with some weighted issues with faith, and the latter contains a number of suggestive extended metaphors. 
Nearly everything about "Lover" feels honest. There's a confidence to the entire work, a certainty that leaves Swift with nothing to prove, if there ever was in the first place. 
The music itself isn't some drastic departure from her previous work. It's not as if Swift has genre-hopped to a different musical style entirely. This shouldn't be a surprise either — Swift has spent her last few albums fine-tuning her new post-country sound. But in "Lover," Swift has found the soul of her music again. There's a heart to the music, an uncompromising sincerity absent from her most recent work, that elevates the album to new heights. 
In many ways, "Lover" feels like the old Taylor. The writing is light and purposeful, and the songs are frustratingly catchy. However, Swift is far removed from the days of singing about Romeo and Juliet. The "Lover" Taylor is undoubtedly a new one.