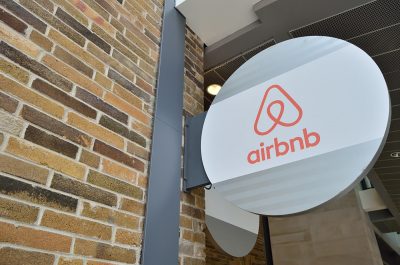 Airbnb reached a settlement with the City of Boston in which the company agreed to assist the city in eliminating illegal short-term rentals. The service will require its Boston hosts to register their units with the city, taking down non-compliant listings and sharing key data that will help the city enforce its rental laws.
Airbnb implemented these new requirements on Sunday and hosts have until Dec. 1 to register with the city before they are removed from the site, according to a city press release.
The settlement resolved an Airbnb lawsuit suing the city of Boston over a 2018 ordinance that only allowed owners to run a short term rental if they also lived on the property, banning investor-owned rentals in which the owner buys property for the sole purpose of listing it on Airbnb.
Kathy Brown, coordinator of the Boston Tenant Coalition — a network of community tenant advocacy organizations and community development corporations — said her group worked with city council to set these regulations in an effort to force owners to rent their units to Boston residents and combat Boston's housing crisis.
"Because of the [expensive] real estate market and high rents, so many families and individuals have [been] pushed out of the city." Brown said. "The very same people who worked hard in their neighborhoods to make your neighborhood safer."
The ordinance requires all owners who wish to manage short term rentals on their property to prove they are following the law by registering their units with the city, according to the press release.
All legal rentals will fall into three categories: limited share units where the owner rents out an individual bedroom in their home, home share units where owners rent out the units in which they live and owner adjacent units where owners rent out an empty unit in a multi-family home.
Owners are required to pay a yearly registration fee for each unit they own, ranging from $25 for the first classification and $200 for the last two. Failure to register can incur penalties starting at $100 per day of non-compliance.
In an emailed statement, an Airbnb spokesperson wrote that the company's goal was to find a solution to allow home-sharing within Boston and that this settlement finally established an "effective regulatory framework" to ensure the company complies with city law.
"We are proud that we have forged this comprehensive solution with the City and look forward to working with our community to make them aware of their role within this new framework," the spokesperson wrote.
Boston Mayor Walsh said in the city press release that this settlement ensures that the City of Boston can accommodate Airbnb as an alternative for visitors while also making sure that there are enough units available for residents.
"My goal in regulating short-term rentals has always been to responsibly incorporate the growth of the home-share industry into our work to create affordable housing for all by striking a fair balance between preserving housing and allowing Bostonians to benefit from this new industry," Walsh said in the release.
Under the terms of the settlement, Airbnb is taking several steps to ensure that it complies with the law at all times, according to the press release.
First, Airbnb will add a function to their website for Boston hosts to list their city registration number. The company will also inform their owners of the new city requirements while also sharing key data with the city on these units.
This shared data includes a unit's submitted registration number, the host's user and listing ID and the unit's zip code.
Brown said she was very happy with the regulations, because it bans investors from running an Airbnb while allowing families who need the money to continue listing their units on the service.
"The point here is targeting the investors … guys that are buying up whole properties, and taking those properties out of the rental market doing Airbnb or other short term rentals," Brown said, "and therefore taking all of those units out of the rental market, when there's already not enough rental units."
Neil Peterson, 64, of Watertown, said he agreed with the city council's argument that restricting Airbnb will help resolve Boston's Housing Crisis.
"I think it will help the problem of housing in the City of Boston," Peterson said. "A number of cities, they're losing their housing to investor owned Airbnb."
Mike Taylor, 26, of Dorchester, said he did not think the city should restrict which homeowners can list their units on Airbnb and which cannot.
"If someone already bought the house, I don't see what difference it makes if they rent it out, it's their property."
Duney Roberts, 29, of Newton, said while he supported the regulations, he did not think that the Boston City Council was doing enough to combat Boston's housing crisis.
"Airbnb does have a pernicious business practice and this is a way to protect that," Roberts said. "However, the Boston City Council has many other mechanisms they could use if housing for the poor and for all citizens is a priority. And they're not using those, including building public housing and making housing in general a right for human beings."