Ambi, a Boston-based startup with a Boston University graduate on its team, is designing an academic platform that the company says will better engage students by mimicking the social media sites they already use and allow them to better interact with their peers online.
A video on Ambi's website says that while social networks have changed aspects of people's daily lives, such as using LinkedIn to find work opportunities, universities are still using "clunky old portals from the nineties." 
Ghali El Mouhandiz, who is Ambi's director of administration and a BU alumnus, began working for the company full-time after he graduated in 2016 from the Questrom School of Business and the College of Arts and Sciences.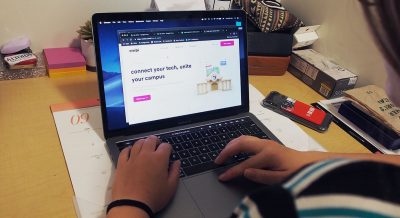 Before getting a job at Ambi, El Mouhandiz said he was uncertain what he would do after graduation and jumped at the opportunity to help build something from scratch.
"It is great to have an opportunity where you can work on problems that actually mean a lot to you and knowing you can actually bring a big solution to that problem," El Mouhandiz said. 
After experiencing the disconnect students sometimes feel between themselves and their professors when there's many students in a class, El Mouhandiz said he became invested in finding a solution to help students better interact with their classmates and professors.
"There is definitely space for universities to give us some platform where we can communicate, collaborate and work together without having to add each other on our own personal social media," El Mouhandiz said. "Being able to make that interaction easier for people is my daily motivation."
Soham Khaitan, a 2016 graduate of Babson College in Wellesley, is Ambi's chief operating officer and said the platform was designed with the student user experience in mind. 
"We felt that there was just no student-centered design in education," Khaitan said. "We know our generation is ambitious and we want to enable that ambition by giving them the right tools."
In the future, Khaitan said he hopes Ambi creates "a world where software can enable learning and not for social media and following celebrities, but being engaged in something productive."