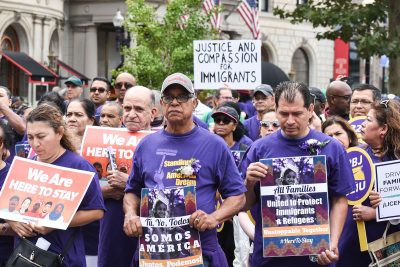 Hundreds of workers and union supporters gathered in Copley Square Monday morning for a Labor Day rally organized by 32BJ SEIU, a property service workers union with about 20,000 members across Massachusetts, Rhode Island and New Hampshire. 
The theme of the day was "worker justice and immigrant rights," and demonstrators gathered in front of Trinity Church at the east edge of the square to hear speeches on that topic from workers, activists and state politicians before marching to the Boston Common. 
Roxana Rivera, vice president of 32BJ SEIU, was the first to speak. Switching between English and Spanish, she talked about the value of unity in the face of the country's discrimination against immigrants in the labor force. 
"Wherever we come from, from whatever race or religion, we are fighting for our nation with liberty and justice for all," Rivera said. 
Rivera also paid tribute to former 32BJ SEIU President Héctor Figuero, who died on July 11. Demonstrators wore white carnations and took a moment of silence in Figuero's honor.
The Rev. Mariama White-Hammond, a social and environmental justice advocate, asked the audience members to hold their neighbor's hands as she led them in a prayer. She said the federal government needed to stop its cruel treatment of both immigrant workers and immigrants at the country's southern border.
"Guys, someone is telling us that our problems are because of our brothers and sisters," White-Hammond said. "We are here today to say: We reject the spirit of fear, we reject the spirit of injustice, we reject the separation of families."
U.S. Rep. Ayanna Pressley, a Democrat who represents much of Boston in Congress, told the crowd she was thankful that state and local municipal leaders are taking steps to support immigrants in the face of U.S. President Donald Trump's administration.
"The federal government has abandoned us," Pressley said, "but you are so very fortunate to have one another, the chosen family in this coalition of labor."
U.S. Sen. Ed Markey, a Democrat, and Massachusetts Rep. Liz Miranda, a Democrat who represents Fifth Suffolk, were among other lawmakers who spoke at the rally.
Elida Guevara, a 38-year-old union member who lives in Everett and emigrated to the U.S. from El Salvador, said before the rally through a translator that even immigrants who hold Temporary Protected Status, which allows them to stay in the U.S. because of dangerous conditions in their home country, deserve a chance at a better life in this country. 
"We are here today not only as TPS holders, but to send a message to the Trump administration that we're here to stay but also that we're here to work," Guevara said.
Guevara added it was important to hold events like the union's Labor Day rally to remember the plight and sacrifices of American workers.
Various organizations, from education unions to community businesses to environmental advocacy groups, sent representatives to the rally to show support for 32BJ SEIU.
Methuen resident Crisayda Belén, 24, attended the event and said she works for Field First Consulting, a company that partners with 32BJ through the Driving Families Forward Coalition.
Belén said she supported the rally because she recognized the need to bring attention to immigrants' rights.
"In the midst of Labor Day, I think it's very important to bring to the forefront immigrant issues and just what they bring to the table," Belén said. 
Jeron Mariani, 24, of Jamaica Plain, was at the rally and had an Ed Markey pin on his shirt. In today's tense national and local political climate, Mariani said, activists should use Labor Day to celebrate unity within the labor movement and spread awareness of labor and immigrants' rights.
"It's good to have days like this where you can gather, show your values, show your colors and just really be proud." Mariani said, "whether you're in a purple shirt for SEIU or a black shirt for the Sunrise Movement."
Adrienne Horne, 27, of the West End, attended the event with the Sunrise Movement, an environmental advocacy group. She said she showed up to support the "labor who built this nation."
"I think for me it's a time to reflect on labor in the past, labor in the present, all the hard work that people are doing in this country and how I can support those people to get better jobs, better working conditions," Horne said.