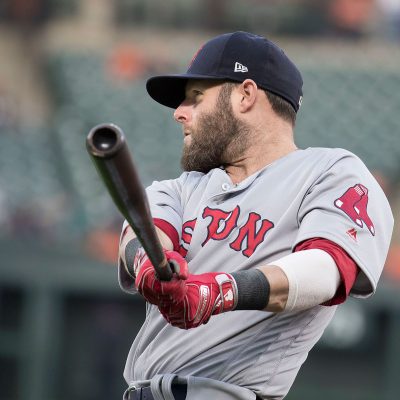 Andrew Luck was dealt a difficult hand from the very beginning. Drafted first overall in 2012, Luck entered the National Football League as a highly touted prospect who took the reins from all-time-great Peyton Manning as quarterback for the Indianapolis Colts.
Seven years later, his job never seemed to get easier.
Luck sustained a critical shoulder injury in 2016 that forced him to miss the entire 2017 season and ultimately led to his shocking retirement announcement last week, just days before the kickoff of the 2019 NFL season. At 29-years-old, Luck is among the best athletes ever to retire during their prime.
The story of an injury-plagued star who overcame adversity to become an elite player and fan favorite should sound awfully familiar to Boston sports fans. I'm talking, of course, about veteran Boston Red Sox second baseman Dustin Pedroia. 
Pedroia was not quite a first overall pick – the Sox selected him 65th overall in 2004 – but he faced steep expectations nonetheless, though largely self-inflicted. By winning the Rookie of the Year and Most Valuable Player awards in his first two full seasons, Pedroia set a high standard for himself early on. 
As his career continued, Pedroia proved himself to be a tough, reliable leader whose dedication was second to none. Like Luck, he was a fan favorite, an All-Star, and unfortunately, a frequent flyer on the Disabled/Injured List. Since the beginning of the 2018 season, Pedroia has played in only nine games, with his appearances restricted by his recurring knee injuries.
Both players have been candid about the toll their respective injuries have taken on their careers, and more importantly, on their lives. During his impromptu press conference on Aug. 24, Luck reflected on the toll his multiple injuries have taken on him.
"For the last four years or so," Luck said, "I've been in this cycle of injury, pain, rehab. It's been unceasing and unrelenting, both in season and in the offseason. I felt stuck in it, and the only way I see out is to no longer play football. It's taken my joy of this game away."
Unsurprisingly, the fans' reactions to Luck's announcement were mixed and often frustrating. When the news broke on social media during the Colts' preseason game that afternoon, fans booed Luck as he sat on the sidelines. It also led to some pretty shameful takes, including a negative tweet from Fox Sports 1 analyst Doug Gottlieb.
"Retiring cause rehabbing is 'too hard' is the most millennial thing ever," Gottlieb's Tweet read. 
Gottlieb received immediate criticism for his words — and rightfully so — from large sections of fans and press alike, including media personalities Britt McHenry, Mike Golic and Troy Aikman.
Walking away from stardom, millions of dollars and likely entry to the Hall of Fame because of injuries is certainly not an easy decision to make and by no means should it be seen as giving up. 
For one, Luck, who's now only 29, has a family. Why should he continue to put himself through hell when the joy has been sucked out of the game from him? Luck's decision to retire was brave, smart and admirable. 
Now, Pedroia's situation is not exactly the same. As he pointed out in a recent interview, "Shoot, [Luck] has been hit a lot more than I have. I've been hit once. He has been hit 400 times or something." 
Pedroia said he sympathizes with the struggles of rehabbing, but he does not pretend to fully understand what Luck has gone through physically.
With that being said, Pedroia's tone has echoed Luck's. Pedroia said he's not considering another surgery because "it would affect the quality of [his] life." 
Regarding his family, he shared, "There was a couple times I threw batting practice to my kids and the next three days, I was not moving. When you can't do things like that, it stinks. We had to do something."
Despite the differences in their stories, there are some key lessons both Pedroia and the Boston fan base should take away from Luck's retirement announcement, and more importantly, its aftermath.
First and foremost, walking away from the game you love is never easy. Especially not right before a new season or when you have $25 million at stake. However, putting yourself and your family before your work is hardly ever the wrong move. 
Secondly, I truly hope Boston fans have learned how not to react when their beloved star does inevitably hang up his cleats. What Dustin Pedroia has given to the Red Sox organization and the City of Boston is immeasurable. 
Pedroia won two World Series rings and has served as the heart and soul of the team for more than a decade and no injury or dirty Manny Machado slide should ever detract from that. When Pedroia finally decides to retire, even if it's midseason, he should be met with nothing but support and gratitude.
Of all of the baseball and sports wisdom one can learn from the film (and book) "Moneyball," there is one line that stands out, especially respecting the challenges of professional sports. As a scout tells the parents of a young Billy Beane, "We're all told at some point in time that we can no longer play the children's game, we just don't … know when that's gonna be. Some of us are told at eighteen, some of us are told at 40, but we're all told."
Andrew Luck was told at 29. Dustin Pedroia? Well, he just may make it to 40 after all. But regardless of when his time on the field finally ends, we sports fans owe it to our stars to consider their happiness and quality of life far more than their next snap or pitch.