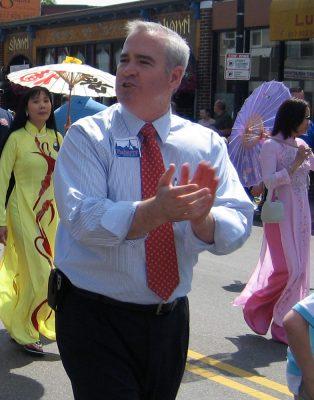 Every odd-numbered year, Boston holds a race that spans the entire city. But unlike April's famous marathon, this race takes place over many months and ends during early November, when candidates in Boston's biennial City Council elections compete for residents' votes.
Of the council's 13 positions, the race for councillor at-large is by far the most crowded, with 15 candidates fighting to claim one of the four at-large seats.
With Boston only three weeks away from the preliminary municipal election on Sept. 24, no one can know for sure which candidates will come out on top. But by looking at a candidates' fundraising records, onc can measure the success of a campaign which may help predict the outcome of the election
Candidates running for any city and state position are required to file monthly campaign finance disclosures with the Massachusetts Office of Campaign and Political Finance. The Daily Free Press compiled the fundraising data from all 15 councilor at-large candidates, available to the public through the OCPF's online database.
All fundraising totals were calculated from Nov. 8, 2017 — the day after that year's City Council election — to Sept. 3, 2019, and are rounded down to the nearest dollar.
The top candidates and how much they raised
In total, at-large candidates raised a combined total of $1,515,102 since 2017's city council elections. This year, funds were concentrated around the top few fundraisers, with the top two candidates together raising over $800,000, more than the other 13 candidates combined.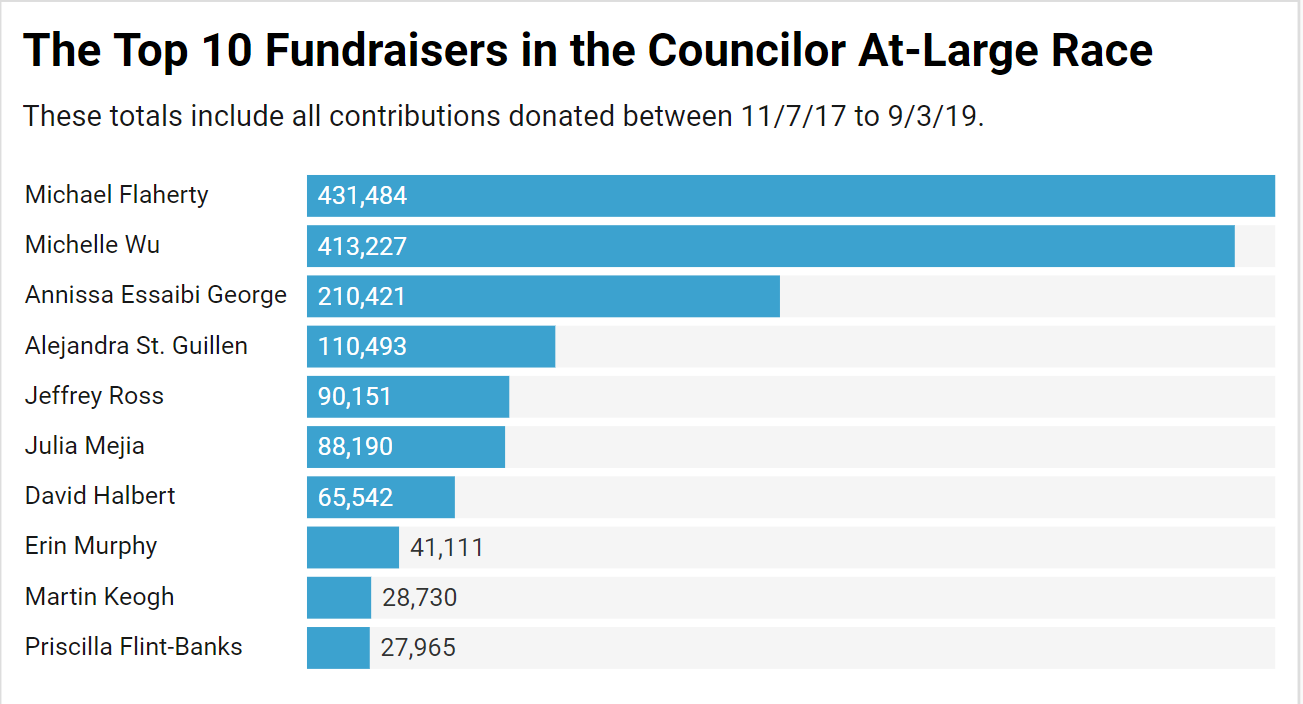 Incumbent Councilor At-Large Michael Flaherty was the top fundraiser with a total of $431,484 raised, of which $413,348 came from individual donors. Flaherty, who was first elected to the city council in 1999 before beginning his current term in 2014, also raised $16,100 dollars from union and business associated PACs this year.
Councilor At-Large Michelle Wu had the second most contributions, raising $413,227, followed by Councilor At-Large Anissa Essaibi George who raised $210,421. 
Adam Webster, campaign director for Essaibi George, said while the counselor had raised significantly less money than her incumbent colleagues, it was important to note that the vast majority, just over 80 percent, of her donors came from within the City of Boston and that almost 40 percent of her donations were under $100.
"I think it really speaks to the fact that she has a really strong amount of grassroots support that reaches into every neighborhood in Boston," Webster said. "That's something that's really exciting."
Webster said Essaibi George's fundraising strategy focused on meeting individual voters within the city of Boston through neighborhood fundraisers and community events and that grassroots support is what ultimately wins elections.
The fourth councilor at-large incumbent, Althea Garrison, is running for reelection this year. However, she registered a total of $261 in contributions since last year's election.
Non-incumbent challenger Alejandra St. Guillen, who previously served as director of Boston Mayor Martin Walsh's Office of Immigrant Advancement, raised the fourth most money, coming in with a fundraising total of $110,493. 
Jessica Bahena, campaign manager for St. Guillen, said while St. Guillen did not have the same advantage as the other well-connected veteran politicians, her campaign has had success building a grassroots level network throughout the city.
"[St. Guillen] doesn't have an amplified network of donors, as other candidates, but what has been helping us is that she has a lot of loyal grassroots donors," Bahena said, "and those donors have been able to reach out to their network to host meet and greets, grassroots dollar events."
The next few challengers in terms of total contributions include Jeffrey Ross with $90,151 raised, Julia Mejia with $88,190 and David Halbert with $65,542.
However, the majority Jeffrey Ross's contributions — $75,000 — was loaned to the campaign from Ross himself, with only $12,031 coming from individual donors.
Where the candidates' donations came from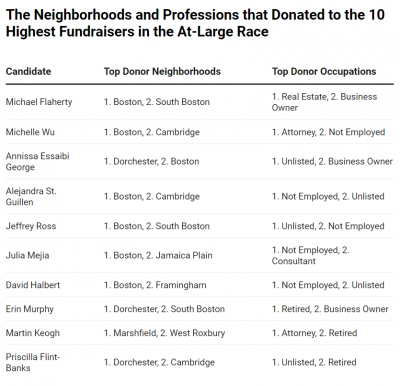 The publicly available fundraising data may also give insight on the neighborhoods and professions that form a candidate's voter base.
Of Flaherty's fundraising totals, the largest amount of money, $134,423, came from donors who listed themselves as residents of Boston as a whole, while another $24,225 came specifically from South Boston residents. As for his supporters' occupations, donors in real estate and business owners formed the top two groups bringing in $41,325 and $36,150 respectively.
Wu received the most money from donors registered as residents of Boston, $184,718, with her second highest group of donors coming from Cambridge, who brought in $17,989. She also received significant support from attorneys — $40,105 — and those who listed themselves as "not employed" who donated $34,759.
The largest amount of contributions to Essaibi George's campaign—$45,941, came from donors from Dorchester, while business owners were the profession that donated the most money, bringing in $19,455.
Webster from Essaibi George's campaign said the counselor had such strong support from Dorchester because Essaibi George had grown up, served as a civic association leader and is currently raising her family in the neighborhood.
"[Essaibi George] is deeply, you know, deeply connected to the community," Webster said. "And I think folks appreciate the work that she's been able to do, both on the city council and in, in her prior role."
Webster said Essaibi George also enjoyed large support from business owners because the donors recognized that the councilor understood their experiences.
"[The counselor] understands the challenges of running a small business and has really worked hard to ensure that Boston has thriving local business districts," Webster said. "And that's something that makes her unique."
St. Guillen received the most donations from residents registered to Boston, $38,999, followed by residents in Cambridge who brought in $11,030.
Bahena, St. Guillen's campaign manager, said the candidate's support in Cambridge came from relationships she built with other communities through her time as director of the Mayor's Office for Immigrant Advancement.
"Because of the work that she's been doing," Bahena said, "people who decided to donate to her campaign, whether they live on in Boston or not, feel that she is one of the strongest candidates running for Boston city councilor at large."
Editor's Note: This article is part one of a story that will analyze the fundraising statistics of candidates in the upcoming Boston City Council preliminary elections—part two will focus on the district councilor elections—and is the first entry in a larger series set to explore multiple different angles of the 2019 City Council race.