As the air gets colder and the wind blows stronger in the city, soon you'll be able to take some time to walk a few steps from Faneuil Hall towards the waterfront and immerse yourself in intriguing conversations about art while listening to live music.
This upcoming weekend the Christopher Columbus Waterfront Park will once again serve as the center of Boston's art scene as local artists and musicians bring all of their talents to one place for the annual Boston Arts Festival.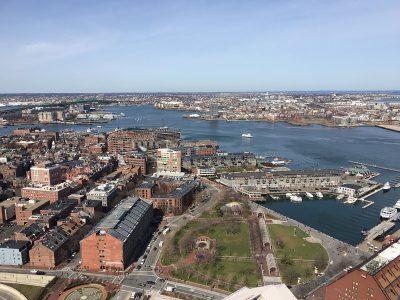 Business partners and spouses Jen Matson and Peter Taibi have been privately managing and running the festival since 2016. 
The festival was originally part of an initiative to kick-start an open studios event throughout the fall after the Christopher Columbus Waterfront Park renovation in 2003 under Boston Mayor Thomas Menino's care. Matson and Taibi, who are festival organizers by trade, took over the festival in order to keep it running. 
"We didn't want the city to lose [the festival]," Matson said. "It's a lot of work and we put a lot of effort into having it run and having it be successful."
Matson and Taibi have continued to hold the event at the same park overlooking the waterfront for the past three years. 
The festival's website currently has 37 artists and 13 musicians slated to attend this year, but Matson said this does not reflect final lineup, which will welcome over 50 artists. 
Melrose cross-culture folk artist Caroline Sainis, a returning artist at the festival, said she joined last year because being a part of the festival was on her bucket list. 
"As I was looking to branch out a little bit," Sainis said, "I thought, what better thing to do than standing in the middle of Boston and showing my art to thousands of people from so many different walks of life and different places in the nation?"
Sainis said she plans to bring some of her larger paintings to the festival, one of them inspired by the neighborhood Beacon Hill and the other a rendition of the sun and water, with the plan to "get big." She takes inspiration from North and South America, as well as her travels while avoiding politics.
"I'm not just developing something out of a marketing technique," said Sainis. "It's definitely emerging from my family and my heart, and good to know it makes people happy."
Abstract artist Connor Wright wrote in an email that he will not select any particular artworks to bring to the festival, but attendees can anticipate his latest drawings as well as his older works. Debuting his work at the festival, Wright uses pen and parchment paper as his main medium, often drawing surreal, colorful animals.
"I love it when people come through the tent and take time to look at artwork that they wouldn't otherwise be exposed to," Wright wrote in an email. "I love to see all of the reactions, good and bad."
The festival will feature mostly hand-made and original fine arts from local talent, Matson said. 
"It's one of the only shows of the year that focuses on original fine arts, so these are going to be things that are made by the artists," Matson said. "Everything is one-of-a-kind."
This year marks contemporary jeweler Nancy Marland's first time showcasing her work at the Boston Arts Festival, although she has been making "evocative" elemental-inspired jewelry for the past four years. Having been in other juried art shows in the past, Marland said she felt the process of applying to be a part of the festival was smooth after having pieces of art at hand to impress other judges.
"It's almost like plug and play at that point," said Marland.
Matson said she and Taibi have been hard at work on preparing and organizing the festival throughout the year. Applications for artists and musicians started in January. Each year, Matson, Taibi and another professional musician Michael Alan Scrima make up three out of five members of the application panel. The other two members rotate annually.
"[Festival goers] can expect [to see] talented local artists and talented musicians, and [to have]…a fun weekend of looking at great art and listen to great music and hang out, rain or shine," Maston said.