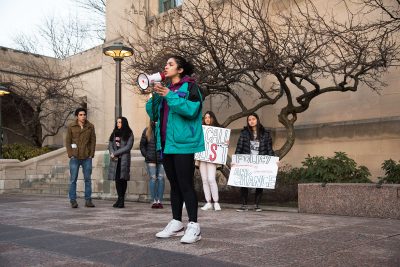 By Alex LaSalvia and Nyah Jordan
Boston University Provost Jean Morrison announced Aug. 26 the university's Free Speech Committees, which were formed in February, will be holding forums for students to provide input on free speech, guest speakers, inclusivity and students' rights on campus.
The Daily Free Press reported on the original announcement in February when President Brown sent an email to the student body explaining the need for such committees.
"In times in which there are deep divisions in society, the commitment to free expression is tested," the email stated. "As we observe events both on campuses and in the broader society, I believe it is reasonable to suggest we are in such a time."
The two Free Speech Committees work closely with each other, but according to BU Spokesperson Colin Riley, they have slightly different missions.
"One committee will look at the policy and articulate the university's commitment to free speech," Riley wrote. "The other committee will review the implementation and practice of the policy."
The committees have looked closely at this issue in the months since their formation, according to the Morrison's Aug. 26 email, and the next step is to student input. The committees have not yet announced any of their findings.
"The committees have been hard at work over the last few months and are now looking to hear your thoughts," Riley wrote. "During September and October, we will host a series of community conversations to hear your perspective on a range of issues, from student and faculty rights and responsibilities to the relationship between free speech and an inclusive campus environment."
The committees will host five sessions for students, each on a different subject. The forums will focus on "free speech, academic freedom, and an inclusive campus," "students' rights and responsibilities," "invited speakers and third parties," and "faculty rights and responsibilities." The first forum will take place Thursday at 3:00 p.m. in Mugar Memorial Library.
Morrison wrote in her announcement that the committees hope to present a statement on free speech and policy recommendations to the University Council and Administrative Council in the early Spring semester. These councils will then review and ratify the statement.
Nancy Santarsiero, president of the BU College Democrats, said she thinks it is good the university is looking into campus free speech, because it is an important, yet complicated, subject.
"If you take away from one, you take it away from all and I think it's really important that we do have freedom of speech," Santarsiero said. "It's important to protect rights, but it's also important that at a private university students feel comfortable and safe."
Santarsiero said the place to draw the line between what speech is appropriate or shouldn't be allowed has the potential to be subjective, which is where it's good to have input from students of the university.
"Public opinion is important and students deserve to have their voices to be heard," Santarsiero said, "so that seems like a good way to deal with it."
Christiana Danakou, a freshman in the College of Arts and Sciences from Greece, said that she never saw these actions being taken at her high school back home, and appreciates BU paying more attention to free speech.
"I think it's an issue that should definitely be spoken of," Danakou said. "People need to get more informed and listen to other people who may be experts talk about that issue."
Joseph Lai, a junior in CAS, said he's worried forums like this will just encourage people with strong opinions to speak up and misrepresent the majority of students.
"I'm not involved in politics and that kind of stuff so I don't really have a strong opinion about [speech] on campus," Lai said. "The people who are going to speak out are going to be the ones that have like, really, really strong opinions, and that's not like with any negative or positive connotation, but I feel like you're not really getting a gauge of the general student body."
Tiana Catala, a sophomore in the College of General Studies, said she doesn't see any problem with the state of free speech on campus, but she thinks the fact that BU is looking into it shows they care about making students feel welcome at BU.
"The fact that our school cares about whether or not we feel comfortable having free speech shows that are welcomed in our community," Catala said, "and can encourage other students who may not feel welcome to say what they want to say to speak their mind."