A new special exhibition comprised of over 40 pieces of art from all around the globe is opening this weekend at the Harvard Art Museum on Sept. 6. The exhibition seeks to bring the many pieces together to provide a fresh context to modern day issues tied to displacement, migration and oppression. 
Mary Schneider Enriquez, Harvard Art Museum's Houghton associate curator of modern and contemporary art was vocal about how the different pieces which make up "Crossing Lines, Constructing Home: Displacement and Belongings in Contemporary Art," highlight key issues.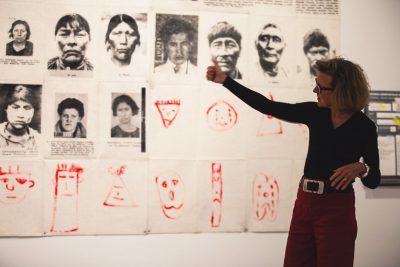 "We wanted to create an exhibition that spoke to some of the issues that we are facing in the world today," Enriquez said. "We use contemporary art as a way to think about what life is like for so many people."
One piece, crafted by South Korean artist Do Ho Suh, replicates a space the artist lived in when he first immigrated to Europe. At the center of the exhibition room sits a basement corridor made out of yellow polyester and filled with minute details on its walls such as door hinges and pipes. Suh keeps visitors in his frame of mind by allowing them to walk through the piece and experience a piece of his past for themselves.  
The exhibition features four thematic galleries. "Borders, Lines, Passages" presents images of the U.S. southern border with works that expand on the historical and geographical scope of the region. "Departures" seeks to evoke the journeys taken by those who've been displaced, and "Constructions" focuses on their dual identities as they struggle with their past and acclimate to a new environment. The works in "Causes and Consequences" scrutinize the catalysts of movement and exile.
At a press preview for the upcoming exhibition, Makeda Best, the curator of photography for the exhibition, said there are certain details one will never forget that remind them of the trauma they have lived through. 
"Our idea really came out of thinking about immigration as something that has always been a part of life in the world and that it goes back centuries," Enriquez said.
Best and Enriquez have been working intently on the exhibition over the past year. Enriquez said it usually takes a few years to get an exhibition from the idea phase into reality, but after the museum accepted their proposal they requested the exhibition be crafted with the intent of opening in 2019. 
Enriquez's own experiences, having lived as an expatriate in Mexico City for 11 years and focusing her doctoral work on Latin American art, helped inspire the exhibition. 
"We need to understand that there is both extraordinary pain and extraordinary creation that comes out of the hardship of others," Enriquez said, "and also the ways in which people can build and work together." 
Rebekah Bonner, a writer for The Arts Fuse, a Boston based online arts magazine, said the Harvard Art Museum did a good job on educating its viewers when explaining a range of different types of artwork. 
"The overall atmosphere pulls you in and makes you feel something. " Bonner said. "It's definitely like a melancholy over time." 
Gregory Williams, an associate professor of contemporary art at Boston University, said since the artists feel strongly about these issues their art serves as a form of protest. 
"There are a lot of different angles from which you can approach this kind of work today," Williams said. "But I think what makes it distinct when we're talking about art that relates to activism that actively addresses very current topics is [that] there's going to be a clear message in there, and a clear tie in to recognizable events."
Enriquez believes artwork can prompt dialogue and deep thought among people who can appreciate differences and help people finally realize we belong to each other and ourselves in one community.
 "I want people to walk out and keep thinking," Enriquez said. "And I hope that's what this show will do."