Walk into the BUild Lab, located in the heart of Boston University's East Campus, and you will enter a space where conversations and creative ideas fill the room behind the glass walls.
The BUild Lab IDG Capital Student Innovation Center, which opened in February 2018, houses the [email protected] initiative which prepares BU students to be "drivers of innovation" in their communities, according to the mission statement.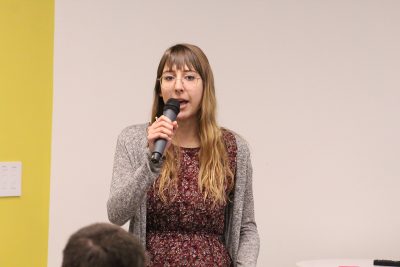 Sydney Gullet, a College of Arts and Sciences senior and member of the [email protected] Student Leadership Council described it as, "a space for everyone … There's a great sense of community, especially within the BUild Lab itself."
 Gullet, who is studying technology and data policy, spent the past summer working on a venture during the [email protected] Summer Accelerator. The Accelerator is a 10-week intensive program in which at least one team member actively works on the idea full time. 
The venture Gullet worked on is called Juriscape, a compliance platform that assesses financial and operational risk for political campaigns, she said.
Jenna Crawford, a Social Innovation Program Intern and School of Theology Postgraduate, said that there are a variety of other programs and skill-building workshops offered by the [email protected] initiative.
These programs aim, "to equip students with innovation and entrepreneurship skills and training," she said.
Teams can develop and self-direct ventures at their own pace through the Innovation Pathway program with guidance from faculty from various backgrounds. According to Crawford the four different stages of Innovation Pathway —get inspired, walk, run and fly— allow for opportunities to unlock funding to further develop a venture.
This year, Crawford said, the Innovation Pathway Project is providing additional opportunities for projects that previously would not qualify for funding to be able to receive funding.
A project is an action-oriented idea that will create a positive impact such as a campaign or event, whereas a venture is a scalable business model, such as a nonprofit or tech idea.
Gullet said some students utilize skills directly from their major toward their venture while others, "use this space and initiative to work on something [else] they're passionate about."
 If a student is interested in becoming a part of the BUild Lab community, but has yet to conjure up an idea, Idea Open-mic Nights are hosted in the space to allow for ideas to flow between peers. Students can also join teams that have already formed.
Orientation Ambassador and First-Year Innovation Fellowship Coordinator Hailey Hart-Thompson, a junior in the College of Arts and Sciences was originally involved in the Undergraduate Research Opportunities Program before seeking out involvement in [email protected]
"[Idea Night] is a great place for new people to find what they are passionate about and learn from other innovators in the community," said  
This year, Hart-Thompson will run the First Year Innovation Fellowship, a new program that Crawford said will help maximize a student's potential for four years in the space. Hart-Thompson hopes to be able to support others' learning and growth.
First year transfer students and freshmen should join the fellowship, Gullet said, as a way to become involved on campus and explore a passion.
The Innovation & Entrepreneurship Minor was launched this fall through [email protected] and it provides the opportunity for ideas to be developed into social or economic impact.
Melissa Sun, a sophomore in the Questrom School of Business, is a new member of the [email protected] Student Leadership Council. 
By participating in the [email protected] initiative, students "can meet intelligent, creative people" and "can learn about issues on campus and in the world and see firsthand how people are trying to solve them," Sun said.
"The staff truly believe in the success of students," Hart-Thompson said, and so "the students start to believe in themselves."