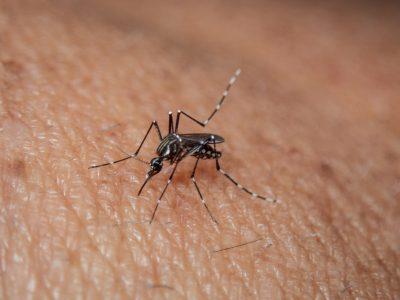 Eastern Equine Encephalitis has resurged in Massachusetts, with four human cases of the rare but potentially fatal disease spread by infected mosquitoes, confirmed in Massachusetts this year so far.
In addition to the human cases, the Massachusetts Department of Public Health announced in a press release a total of seven horses had been infected this year.
Currently, 28 communities throughout central and southern Massachusetts are at critical risk for the EEE virus, with another 37 at high risk and 126 at moderate risk, according to the press release.
As for Boston, Caitlin McLaughlin, a spokesperson for the Boston Public Health Commission, wrote in an email that no cases have been reported in the city.
"The Boston Public Health Commission is closely monitoring the risk for EEE in the City. However, at this time, no human or animal cases of EEE have been detected in Boston," McLaughlin wrote.
Shibani Mukerji, the associate director of the Massachusetts General Hospital's neurology department, said all residents are at risk of infection regardless of age group but that children and the elderly suffer the most severe complications once infected.
As disease is mainly spread by mosquitoes, Mukerji said, many animals such as horses and birds are just as vulnerable to the disease as humans.
Residents feeling unwell should seek medical care and should immediately head to an emergency room if they have a fever and are feeling confused, Mukerji said.
Omar Cabrera, manager of Ethnic Media and Community Outreach at DPH, wrote in an email that the symptoms of EEE mimic the flu and that the disease is most deadly if it spreads to the brain.
"The first symptoms of EEE are fever (often 103º to 106ºF), stiff neck, headache, and lack of energy," Cabrera wrote. "These symptoms show up three to ten days after a bite from an infected mosquito. Inflammation and swelling of the brain, called encephalitis, is the most dangerous and common serious complication. "
Cabrera wrote that once a human is infected, the disease generally worsens rapidly and patients may fall into a coma within a week.
McLaughlin wrote that the disease is so dangerous that 40 to 50 percent of those infected will die, while 80 percent of those who survive are left with severe neurological consequences of the disease, often with permanent disability.
Mukerji said there is no known cure and modern medicine can only treat symptoms of the disease. One such treatment is intravenous immunoglobulin, which involves taking antibodies from healthy donors and injecting them into those infected with EEE.
"Essentially, these antibodies produce sort of a pooled antibody, from a lot of healthy donors given to a person who's sick," Mukerji said.
However, Cabrera wrote that Massachusetts residents can take precautionary measures to protect themselves and their loved ones from EEE.
These include applying insect repellent, avoiding outdoor activities during peak biting hours of dusk to dawn, wearing longer clothing to limit skin exposure, sealing off screens on doors and windows and draining standing water in rain gutters, drains, and other standing water where mosquitoes may lay their eggs, Cabrera wrote.
As for animal owners, residents should reduce potential mosquito breeding sites on their property by flushing out buckets, tires, wading pools and water troughs near paddock areas once a week during summer — especially after heavy rains — according to the DPH press release.
To combat the disease-carrying mosquitoes, Cabrera wrote that the state had deployed airplanes to spray the counties of Bristol, Plymouth, Middlesex and Worcester, while other areas have can either request ground spraying from the state or contract with a private company.
As for Boston, McLaughlin wrote that the BPHC sprayed the areas in the neighborhoods of Hyde Park, West Roxbury and East Boston.
Mclaughlin wrote that the BPHC posts information in advance about each spraying on their website and via social media.
Cabrera wrote that regular outbreaks of EEE occur in Massachusetts every couple years, with the most recent outbreaks happening between 2004 and 2006 and 2010 and 2012. Those two outbreaks resulted in a combined 22 residents being infected.
Karen Palumbo, 55 of Sudbury, said while she was not panicking over EEE, she will still remain wary of the disease.
"Yeah, I feel like it's been around before," Palumbo said. "I'm not obsessing over it, but being cautious."
Anthony Byrn, 42, of Brookline, said he was not worried and he believes the threat of the disease has been exaggerated in the media.
"I think that some of the news, they like exaggerating to the extent where it's not something to be taken seriously," Byrn said.
Robert Gualtieri, 43, who moved from Somerville to Boston, said he isn't taking precautionary measures against the disease because there have been no cases of EEE in Boston yet.
"I know that they will announce when they find [EEE carrying mosquitoes] in town or in the city," Gualterie said, "and I'm not aware of them have been found around here."