Walking into a large lecture hall with hundreds of students on the first day of classes can be overwhelming and can fill anyone with uncertainty. While some students develop quick academic friendships in the first week, others struggle in finding a reliable study group can feel like an impossible task. 
This year, three Boston University students are looking to change that with their new app CoStudy.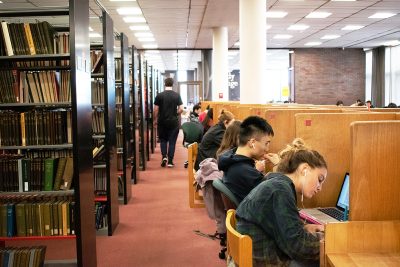 The app, which is currently in development, is designed to help college students connect with their classmates and review course material outside of class. CoStudy is being spearheaded by College of Engineering sophomore Brock Nelson, ENG senior Saumya Chugh and Henry Kaufman, a sophomore in the College of Arts and Sciences.
In April, the trio competed at Adobe Creative Jam at BU, an event series hosted by Adobe Creative Cloud. Creative Jam connects local leaders in the technology field with engineering and computer science students to share an inside view of their processes and projects — meanwhile, teams compete in a tournament that puts their creative skills to the test using Adobe Creative Cloud, according to the event website.
The objective of the tech event was for students to create and design an app that would benefit the BU community. For Nelson, Kaufman and Chugh, that meant focusing on improving the accessibility and social nature of study groups.
"We were given the challenge to create a design for an app that would allow for diversity and inclusion," Chugh said. "When I heard this, my first thought was an app that allowed anyone to find other students to collaborate and study with."
The group was awarded second place for their design in the competition, which encouraged the trio to begin working on development. 
When asked, Gabriella Rose, a CAS sophomore studying quantitative economics, said she has experienced difficulty finding suitable study groups in the past and thinks CoStudy would be beneficial.
"I definitely think it would be useful, especially if you have a big class," Rose said. "Last year I was in a lecture of 300 people. I had my friends, but if I would have known other people that would have wanted to study with us and add helpful information to our study sessions that would have been nice too."
Rose said she tried to find a study group during the spring last year in one of her classes, but she said it did not seem like anyone was interested in joining. 
"It is a little awkward going up to someone you don't know and asking if they want to be in a study group," Rose said. "With this app, if you already know that they are interested in the first place it would have made it easier."
For Nelson, everything about app building and development is new for him. 
"I have been having to teach myself lots of legal and business topics, everything from intellectual property to trademarks to patent, making the company, structuring the company, communicating with people," Nelson said. "Everything has been self-taught so far."
Chugh, however, has experience in app designing. In addition to helping design and build CoStudy, she has previously programed web designs and just completed a summer internship at IBM as a front end software developer. With these skills, Chugh gained insight into the inner workings of creating an app. 
Although there is no official release date as of yet, CoStudy will launch in the fall of 2020. The group is hoping to pilot the app in a few departments in the College of Arts and Sciences this spring to gain feedback from BU students before expanding to other college campuses in the Boston area.