Vampire Weekend's "Father of the Bride" tour is essentially one big "thank you" to all of the band's most loyal fans, including those from Boston who have waited for more than six years to see them live in the City again. On Tuesday night at Agganis Arena, Bostonians were treated to more than two hours of live music featuring some of the band's most beloved songs. 
Formerly a four person band comprised of Columbia University graduates, Vampire Weekend was founded by lead singer Ezra Koenig, bassist Chris Baio, drummer Chris Tomson and guitarist Rostam Batmanglij.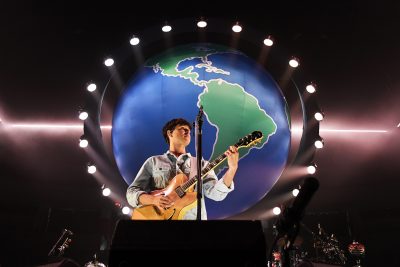 After Batmanglij left the group in 2013, three years removed from the release of their junior album, "Modern Vampires of the City," the band began performing with Brian Robert Jones on guitar, Greta Morgan Salpeter on keyboards and guitar, Will Canzoneri on keyboards and Garnett Ray on percussion.
Christone "Kingfish" Ingram, a Mississippi-based blues singer, opened the night with an impressive display of his vocal range and his skills as a guitarist. The singer spared no facial expression while handling the guitar. Throughout his 45-minute set his charisma, likability and raw talent charmed a crowd that bought tickets to see an entirely different genre of music. 
The show was in support of their latest album record, "Father of the Bride," which was released in May, six years after from the band's previous album. The setlist featured nine songs from the album and more than 10 songs from their three other LPs, as well as a cover of Crowded House's 80's classic "Don't Dream It's Over."
Koenig looked as cool as a cucumber in matching white slacks and a button down, paired with Nike Air Max 97's. The frontman's friendly guitar face-offs with Jones were outshined only by Chris Baio's unparalleled energy on stage left. 
To kick off the show, Vampire Weekend opened the night with a local fan favorite; "Boston (Ladies of Cambridge)," a single from their preppier days with a chorus that chants "I've had dreams of Boston all my life." 
Following their ode to Boston, the band shot the arena with a dose of adrenaline with their performances of the soulful "Bambina" and the racing "Unbelievers." Another notable performance from early in the night was "Cape Cod Kwassa Kwassa," which instantly turned the usually stuffy atmosphere in Agganis into what felt like a beachfront performance. I could almost smell the salt and hear the waves breaking gently against the Massachusetts shoreline. 
Baio then took over as the lead on his own track, the upbeat, "Sister of Pearl," which he dedicated to former Boston University hockey coach David Quinn who now coaches the New York Rangers. 
Koenig asked for crowd participation twice during the 135-minute set: once to help out on "One (Blake's Got a New Face)" and again to sing the intro on "Diplomat's Son," which began as a sample from hip-hop artist M.I.A. The band filled Steve Lacy's absence during "Sunflower" with a stunning guitar performance featuring both Jones and Koenig. 
Following "Sunflower," Koenig thanked the fans that purchased tickets in the 116-120 section of the Arena, all of whom had a view of the band's backs for most of the concert. He continued the set with a heartfelt rendition of "Hold You Now," with Salpeter filling in for Danielle Haim's vocals. 
Effervescent and prose-central songs such as "Harmony Hall," "Diane Young," "Cousins" and "A-Punk" followed, much to the joy of the crowd. The slowed down piano ballad, "Jerusalem, New York, Berlin" rounded out the main set in perfect Vampire Weekend fashion. Not limiting itself to one genre, the song was as much an ode to rock and dazzling guitar chords as it was a piano ballad. 
Aside from the opener, the band played homage to Boston frequently throughout the concert, with Koenig slowing down in between songs to talk about how many people "to this day, sometimes in other countries … think we're from Massachusetts."
The repetitive but boisterous "Big Blue" opened up the band's stacked encore performance at around 10:50 p.m. Koenig then proceeded to take four song requests from the audience, one of which was a request by yours truly for their seldom played "Giving Up the Gun." This song, in all of it's peak Vampire Weekend-ness, made for one of the best performances of the night with its poetic lyrics, exuberant chords and catchy hooks. 
This was followed "Arrows," which Koenig chuckled about being a "deep cut" from their first album. "Who here knows 'Arrows'?," asked the frontman. When a majority of the crowd erupted in cheers of approval, Koenig responded, "We've got some true fans here in Boston." 
A failed attempt at "Hudson" — which ended after only one verse — paved the way for the jovial "M79," which was followed by "Worship You" and "Ya Hey." The band finished the night with their traditional closer, "Walcott," which Koenig told the crowd was "another song that takes place in Massachusetts." 
By the end of the night, it was clear to fans that Vampire Weekend indeed loves Boston, and Boston loves them right back. "It won't be another six years before we come back," Koenig promised.