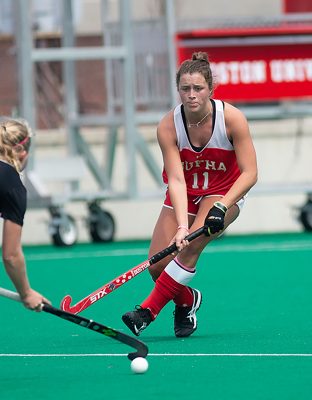 The Boston University field hockey team kicks off their home schedule on Friday night against The University of New Hampshire at New Balance Field at 7 p.m.
The Terriers enter the early season contest with a 1-1 record. They defeated the Ohio University Bobcats (1-1) 4-1 on Saturday before falling to the Ohio State Buckeyes (2-0) 3-2 on Monday.
Head coach Sally Starr spoke of the weekend in Ohio as being a good trip for team bonding.
"It was good to get the team off campus," Starr said.
Junior forward Ailsa Connolly was named the Patriot League Offensive Player of the Week for her four-goal weekend in Ohio which included a hat trick on Saturday against the Bobcats. 
The first of Connolly's three goals on Saturday was the first goal of the season for the team, coming just over two minutes into the game. The Terriers built on the early momentum of the goal and added a second before the six minute mark and raced to 3-1 lead by halftime. It was complete offensive domination by the Terriers, as they ended up outshooting them 19-4.
Ohio State brought much sterner competition for the Terriers and the team struggled to get a foothold in the game. They managed just three shots on goal and faced a relentless Buckeye offensive attack all day.
 "I can't overstate what playing a team like that means," Starr said, alluding to the importance of playing a team like Ohio State so early in the season.
The Wildcats enter with a 0-2 record after losses to American University (1-1) and No. 2 University of Maryland. Sophomore forward Finn Caron has the only two UNH goals of the season, which both came during their 3-2 defeat at the hands of American. Powerhouse University of Maryland (2-0) shut out the Wildcats 5-0 on Sunday.
The Terriers have beaten New Hampshire in each of their last four matchups, scoring 13 goals across the four games.  
"New Hampshire is always a great opponent for us," Starr said.