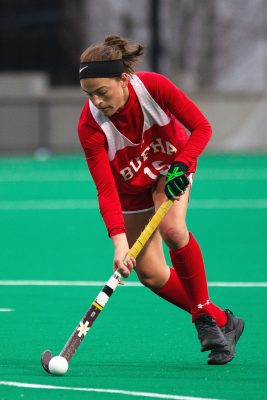 The Boston University field hockey team went 2-0 at home over the weekend by defeating the University of New Hampshire 2-1 on Friday and Northeastern University 5-4 on Sunday. The Terriers record for the season improved to 3-1.
Friday's contest against the Wildcats of New Hampshire had plenty of scoring chances from both sides but solid goalkeeper play was the reason for the 2-1 outcome. Freshman goalkeeper Caroline Kelly made 11 saves for BU and provided a presence in the cage that stifled the Wildcats all night. 
"[Kelly] was huge for us on Friday," BU head coach Sally Starr said.
Freshman back Jodie Conolly opened the scoring in the second quarter to notch her first collegiate goal. The second goal for BU which turned out to be the game-winner came from junior forward/midfielder Liz Ryan just under four minutes into the second half.
Sunday, on the other hand, was goals galore for Starr's club against the Huskies of Northeastern. The game entered halftime with a 2-2 tie before Northeastern scored two goals in the first 10 minutes of the second half. 
Late game heroics would be needed from the Terriers and that is just what ensued. Junior forward Miya Denison scored her first goal of the year to make it a 4-3 game just 1:29 after the Huskies took a two goal lead.
Starr stressed the importance of Denison's goal. "I think that third goal was key," Starr said. 
Conolly tied the game at four with just 2:04 to play on a shot that ignited the crowd. Then, with 1:04 left star goalscorer and junior forward Ailsa Connolly put the game-winning goal in the back of the net on what was a well placed shot away from the goalie.
Starr never felt her team was out of the game, even when down 4-2 in the second half. "The attitude was 'We're gonna find a way to win this game,'" Starr said.
BU will head back out on the road this week to face University of Maine on Friday and Columbia University on Saturday. Both games will be played in Orono, Maine.