Melanie Martinez became an alternative icon in 2015 when she released her debut album, "Cry Baby." Her eerie voice and lyrics, paired with innocent visuals attracted and intrigued many audiences.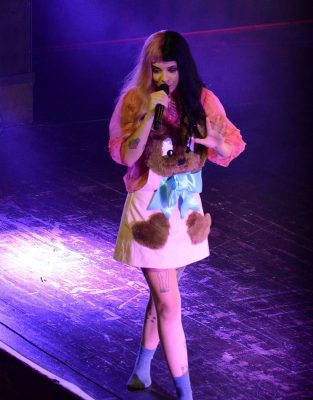 Martinez took a four-year break from music, during which she was accused of sexual assault in 2017 by a close friend, which Martinez denied in a statement on Twitter, which has since been deleted. Martinez returned with "K-12," an even more powerful album than her debut which was released on Sept. 6. 
 Martinez has been the type of artist to carry a dedicated fanbase that continually appreciates her music. The one hour and 32 minute video that combines the "K-12" tracks with stunning visuals and a complicated storyline has already received over one million views in the first nine hours it went live, according to Rolling Stone.
"K-12" has a very similar sound to Martinez's "Cry Baby." The eerie electronic pop mixed with haunting vocals and dark messages feature prominently in both works. However, Martinez did a better job of creating new and interesting beats in her first album. "K-12" lacks that same imagination on the production side of things, containing less intricate drum patterns and few pace changes. However, it remains a strong album lyrically. 
Martinez creates a storyline through her songs following the character Crybaby from her previous album as she enrolls in school. The school theme connects all of the tracks, as Crybaby experiences being controlled by teachers, discovers a teacher abused her friend, helps a friend through bulimia and faces many other uncomfortable issues.
A bus engine is heard in the background as the album commences paired with the tune of the well-known children's song "The Wheels on the Bus." Its innocence completely contrasts with the lyrics, setting the scene for Martinez's album. The artist sings cheerily, "I'm trying not to look across the aisle / 'Cuz Maya's letting Dan put his hand up her skirt." 
It's a bold way to kick off the project, but Martinez' opening lyrics play well with the album's message. The theme of contrasting happiness and sadness, light with dark and innocence with sin is prevalent throughout the album. "[Contrast] is just a reflection of life," Martinez said in an interview with the Alternative Press. "There will be a lot of recurring themes that contrast between light and dark or just duality in general."
Another theme Martinez explores is control through her track "Show & Tell." It's dark tone, along with a repeating cranking sound in the background brings an eerie quality to the track which again matches her message. She sings, "You pull me by my hair so I don't go nowhere," and compares it to how society treats her, adding, "Buy and sell / Like I'm a product to society." 
Although this track is simple, the lyrics convey that feeling of being trapped in a continuing cycle. However, without much variation in the beat and melody, the song does get boring if the listener isn't interested in the lyrics.
"Drama Club" is initially no different than Martinez's previous tracks. With dark, electronic background music and a repetitive beat, the song doesn't break the mold. However, rather than having a normal bridge, Martinez adds 20 seconds of a distorted, eerie piano. 
In the music video, this bridge aligns with a scene where Crybaby strays from the school play's directions and yells out to the crowd to wake up. The distorted piano matches the character and the audience finally breaking away from the trance. Although this bridge is better understood while watching the video, it helps break the repetitive pattern of the song and adds more to her mysterious music style.
In many of her tracks, like "Lunchbox Friends," and "Orange Juice," their title stresses innocence, only for the lyrics tell a different story. These contrasting messages induce a certain amount of whiplash as listeners are thrust into conversations surrounding gender roles and body image.
Uncomfortable topics are explored in depth throughout "K-12." From losing innocence in the first track "The Wheels on the Bus" to a girl facing bulimia in "Orange Juice," Martinez digs deep into issues prevalent in our society.
Although "K-12" might not be the best album to add to a party playlist, it is definitely worth the listen. With intricate messages and themes that are usually avoided in music, paired with unconventional instruments and sounds, Martinez breaks the mold of typical pop artists. So, if you want to be angry at society, while bopping to chill songs, "K-12" is perfect for you, even if you're in college. We won't tell Melanie you're not in the K-12 club.