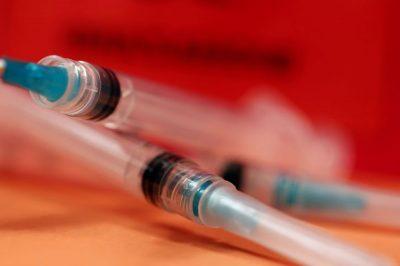 The City of Boston collects over 14,000 used needles every week.
These needles come from various sources, which include the 13 needle drop-off kiosks stationed across Boston's neighborhoods, the Boston Public Health Commission's needle exchange program, and the BPHC's Mobile Sharps team—responsible for retrieving needles found on the city's streets and parks, wrote Caitlin Mclaughlin, spokesperson for the BPHC.
In 2017 alone, Massachusetts saw 1,913 opioid related overdose deaths—28.2 deaths per 100,000 people or nearly two times the national average, according to recent statistics from the National Institute on Drug Abuse.
In response to the opioid epidemic, the City of Boston and organizations across the state have worked to serve the state's drug using population for years, working to support the state's active and former drug users through addiction and recovery.
One of the most major players is the BPHC, an independent city agency that serves individuals and families throughout the Greater Boston Area by protecting the safety of those currently using drugs and providing information and access to various addiction recovery treatments, according to the BPHC website.
One such program is called "Access, Harm Reduction, Overdose Prevention and Education", which specifically helps Boston's active drug users through programs such as needle exchange—which provides clean needles to active drug users to limit the spread of HIV and other sexually transmitted infections—and STI testing, McLaughlin wrote
In 2018 alone, AHOPE served 8,200 residents while the BPHC collected 116 needles for every 100 needles given out, reducing the total number of needles out on the streets, according to the BPHC's 2018 annual report.
Other services offered include "Providing Access to Addictions Treatment, Hope and Support," which helped connect 12,140 residents to substance abuse treatment in 2018, and overdose reversal trainings, through which the BPHC distributed 18,100 nalaxone kits and recorded over 2,360 rescues from overdose last year, according to the report.
Jennifer Toth, director of substance use services at Health Resources in Action—which operates the Massachusetts Substance Abuse Helpline—said the helpline is a free, anonymous resource for any resident looking for substance abuse treatment within the state.
"We have trained staff who can screen [callers] and let them know what all of their options are," Toth said. "I think there's a big misconception with people, a misperception that they need to go in-patient for treatment right away. And that's not always the case for most people."
Toth said while the Helpline accepts calls from anyone, they mostly receive calls from residents who are "actively using but looking to make a change" and that their staff will work to connect the caller with the best treatment option based on various factors such as the user's location and insurance coverage.
Larissa Matzek, executive director of the Massachusetts Alliance for Sober Housing, said MASH was the state's only certifying authority for sober homes, which provide living spaces for former drug users to form a community and support each other in their paths to recovery.
"[Sober homes] serve as a bridge between treatment, and then getting back into the real world," Matzek said. "… It's peer to peer recovery. So it's not [professional treatment], there aren't counselors and things like that."
Matzek said that while certification is entirely voluntary, a 2014 state law required sober homes to be certified by MASH before state agencies can refer people to these homes.
Maryanne Frangules, executive director of the Massachusetts Organization for Addiction Recovery, said MOAR formed in 1991 in response to a reduction in recovery programs for drug users, and seeks to empower former drug users to speak about their experiences.
"What MOAR does is we educate our members to tell their story with purpose, point and passion to be able to share to the world [that] despite the devastation of addiction, there are people in recovery, and people who need to be listened to," Frangules said. 
Frangules said that MOAR also advocates for the establishment of a "seamless continuum of care"—a fully integrated treatment system that covers a recovering drug user throughout their rehabilitation process—and for criminal justice reform surrounding drug users.
Oxana Vera, 30, of Watertown, said she was not too worried about the Massachusetts's drug crisis , as she had not heard much about it from her friends.
"[The services] can better if it's something that helps people, but now it's not bad." Vera said. "I know a lot of people, and no one really said anything about this. It's not a crazy situation I think."
Allston resident Paula Aranda, 24, said she thinks the state and the City of Boston can do more to serve its drug using population.
"Especially in neighborhoods where there's a lot of homelessness, you see people who are high or you see things on the floor left afterwards," Aranda said.
Yoni Kamensky, 28, of Brighton, said the problem of substance abuse extends beyond opioids, as many factors in today's society can worsen the overall drug crisis.
"People largely don't fall into bad habits and destructive patterns when their life is going okay, it's usually a symptom of larger dysfunction," Kamensky said. "And of course, it shouldn't need saying, but decriminalization needs to happen. We need to treat addiction as a health issue and not a criminal one."