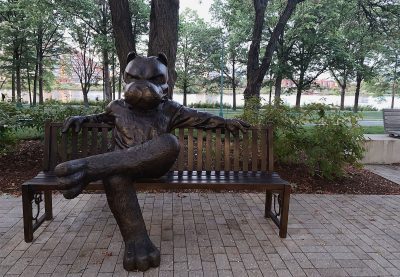 Did you ever feel like the BU Beach was missing something? Perhaps a bronze, humanoid depiction of everyone's favorite campus mascot, Rhett? 
Boston University unveiled a new attraction, the "Rhett bench," located next to the Admissions Office near the BU Beach on Aug. 28.
This bronze statue of the university mascot (not to be confused with the real, live Rhett sometimes spotted on campus) was donated by the BU Alumni Council, according to a video released by the Boston University Alumni Association. The council's idea behind the statue was to "foster BU traditions & school spirit."
The bench, with a man-sized metal Rhett donning a BU jersey lounging out and Rhett-y to take pictures with passers-by, was met with some confusion, but most students interviewed by The Daily Free Press said it was a welcome addition to campus.
Sabrina Lu, a sophomore in the College of Communication, said she was surprised to see a new addition on campus.
"When I first saw the bench, I thought it was funded by our tuition," said Lu. "But learning that it was donated by the BU Alumni makes me feel better. It can be our mascot bench."
Students say they are excited to see the new changes on campus.
Tammie Kim, a sophomore in the College of Fine Arts, said that she likes the location of the bench.
"I think it is nice that they put it on BU Beach," said Kim. "I didn't know it was there but seeing it now, I think it brightens the area. The weather is amazing right now so a lot of students are at the BU beach so a lot people can look at it while studying."
Amanda O'Connor, a junior in COM, said it is a good addition to the campus.
"Rhett has always been a BU symbol," O'Connor said. "I guess it is nice that the alumni donated the bench. I think it will be a good spot for a picture."
Michelle Park, a sophomore in the College of Arts and Sciences, said that she didn't notice the bench.
"Oh, I didn't know it was there," Park said. "But now that you point it out, I think it is cute. It wasn't there last year so I guess they keep making changes around campus."
Courtney Zenner, a sophomore in the College of General Studies, said that she likes seeing changes around campus.
"I see a lot of new things on campus," said Zenner. "Dining points are accepted in more places, dining halls are improved, and now we have a Rhett Bench. It is cool seeing all the changes especially coming back from summer."