Walk into some of the country's most popular clothing stores and you'll find the heartbeat of fast fashion: bright lights and rows upon rows of low-priced clothes, often mass-produced in poor conditions in order to keep the prices low and the companies' income great.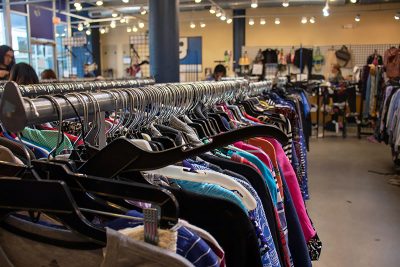 The textile industry is responsible for ten percent of the world's carbon emissions and is the second largest industrial polluter behind the oil industry, according to an article in The Guardian from earlier this year.
While convenient and cheap, fast fashion has a drastic impact on the industry's workers and the global environment.
In 2015, Mary Savoca and her mother, Nea Savoca, opened Ash & Rose, a local fashion boutique that sells sustainably and ethically sourced brands in Boston's SoWa neighborhood. 
Before opening their business, Mary Savoca said that they dabbled in the fashion world through selling products on Ebay, which led to creating their own online store. From the beginning, Mary Savoca said keeping their products sustainable was essential. 
Four years later and their goal of sustainability is at the core of the store's mission. 
"We never even considered buying from brands that were not sustainable," Savoca said. "It definitely can be tempting to look at some other brands that are a lot cheaper that could get us much higher margins, but this is something that we've committed to from day one and it's something that our customers expect."
Online customers, Mary Savoca said, generally seek out Ash & Rose because they know it is sustainably sourced, whereas customers at the physical location have a varying understanding of the fashion industry's impact on the environment. 
In response, Mary Savoca said she helps customers find clothing they love as well as helps them understand the impact they're making by shopping sustainably.
"We definitely see our job as providing people with products that they love, really want and benefit from having in their life," Savoca said. "People are really excited to be making a good choice."
The effects of fast fashion will continue building, Savoca said. Consumers often throw out the cheap clothing of fast fashion as quickly as they buy it, filling landfills at alarming rates, according to the US Environmental Protection Agency. 
The EPA also reported that volume of clothing thrown out is greater than it has been at any other point in history, Sacova added. In the US alone, about 12.8 million tons of textiles are thrown out annually.
Ally Yu, a senior in the College of Arts and Sciences, said she cares about the environment, recycling and walking when she can. However, even as someone who considers themselves environmentally conscious, she said she knew very little about fast fashion and what it means for fashion to be sustainably sourced. 
"Because it isn't talked about as much and it isn't promoted that much," Yu said, "I'm not as aware of it, so I'm not constantly thinking, 'Oh, is this sustainable, is this from a sustainable source?'" 
On campus, the BU Fashion and Retail Association aims to increase awareness of fast fashion's effects and promote sustainable fashion practices to students like Yu who are interested in sustainability but who are unfamiliar with the role fashion can play in it. 
Erica Wu, secretary of the BU Fashion and Retail Association and a sophomore in the College of Communication, said the association's executive board recently met to discuss ways they could engage the student body with sustainable fashion. 
"I'll use the fashion club's Instagram so to bring awareness to sustainable fashion," Wu said. "I know that it's just not me acting on my own, those in the club will be doing the same thing, and we all advocate for being more sustainable in fashion."
Wu mentioned a potential clothing swap and upcycling—redecorating and reselling recycled clothing—were possible events for the future.
Purchasing clothing from second-hand stores and participating in clothing swaps, Mary Savoca said, are inexpensive ways to be both fashionable and sustainable.
"[Shopping sustainability is] more expensive but it doesn't necessarily have to be," Savoca said.  "If you're really take them time to think about your purchase, and, say, not by 10 things that you don't need, and instead, buy just a couple things that are going to really benefit you for a long time, that's a much more sustainable way to shop and much better for our planet."
Other forms of sustainability are more widely known than sustainability in fashion, Wu added. She said she wants to expose students to ways they can make their own closets greener. 
"People don't understand that what they're wearing every day is also contributing to environmental deterioration," Wu said. 
In addition to the BU Fashion and Retail Association, Wu will be a representative for "Rent the Runway," a company that enables customers to rent clothing for varying amounts of time rather than purchase it, which in turn creates less fashion waste. Her roles put her in a place of influence and Wu said she plans to use that to spread more awareness about sustainable fashion. 
"There's a lot of environmentally aware and sustainable brands that are coming out, and there's a lot of movements towards being more sustainable," Wu said. "I think it's absolutely fantastic."