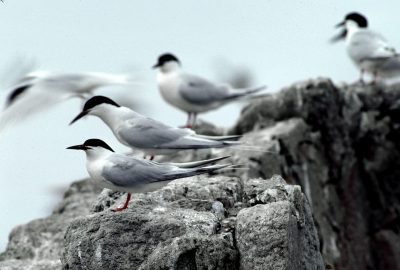 The Massachusetts Division of Fisheries and Wildlife announced its support for a bill in Congress that would provide $12 million every year to aid the state's efforts to protect over 500 species, according to a Sept. 3 MassWildlife press release.
The "Recovering America's Wildlife Act" was first introduced to Congress in December 2017 by Rep. Jeff Fortenberry (R-NE) and Rep. Debbie Dingell (D-MI), but was reintroduced this July after it stalled last year, according to the bill's history on Congress's website.
Beginning in fiscal year 2020, the bill would amend the Pittman-Robertson Wildlife Restoration Act, which diverts funds from the general excise tax for wildlife conservation, to allocate an additional $1.3 billion for the Wildlife Restoration Fund, according to the bill.
The bill also says it would allow states to determine how the funds will be used to protect fish and wildlife of the "greatest conservation need," as well as for other conservation purposes.
MassWildlife's press release called the bill "one of the most important wildlife conservation bills in decades," and wrote that the bill would allow states across the U.S. to implement their own conservation plans.
"Conservation, business, government, and education leaders have come together in the Alliance for America's Fish and Wildlife to create a 21st-century funding model for critically needed conservation of our nation's most precious natural resources—our fish and wildlife," the press release stated.
AFWA brings together state and tribal governments, private landowners, businesses, educational institutions and conservation organizations to protect vulnerable wildlife, according to AFWA's website.
Environmental scientists estimate that one-third of U.S. wildlife species are at risk of endangerment without conservation funding, according to the press release.
As of Sept. 3, 105 representatives had signed to cosponsor RAWA, according to the press release.
Jonathan Regosin, MassWildlife's deputy director, said the action needed to be taken as soon as possible, as climate change is putting more species in danger.
"Because potentially, we would have increasing need over time to list more species on the Federal Endangered Species Act," Regosin said, "if we continue not to act and prevent further declines."
Regosin said the bill would benefit everyone from the manufacturing industry to conservationists, as it would allow the U.S. to avoid a "last ditch" conservation effort later on that would require more government regulation.
Regosin said the $12 million in funding that Massachusetts would receive as a result of the bill would be used for habitat management and restoration, from the wetlands in the Berkshires to coastal plain ponds on the Cape in eastern Massachusetts.
"We have a lot of work to do to conserve our wildlife," Regosin said, "and species diversity in Massachusetts is no exception."
Wildlife recreational areas are open for public use, Regosin said, so the conservation plan would also indirectly benefit people who go to state parks.
Regosin said the current wildlife grants provided by federal government are not enough to fully protect the more than 570 species identified by the state as needing protection, but he said the extra $12 million would bolster MassWildlife's conservation efforts.
"And that's certainly needed," Regosin said, "That's a great thing."
David Brickman, 53, of Wilmington, said he thinks the nation should protect wildlife, but that he thinks the Trump administration might cause gridlock when it comes to enacting legislation.
"Well, with the president we have now, it'll have pushback," Brickman said.
North Shore resident Lisa Riley, 54, said she supports the bill to conserve habitats. 
"Because if we don't, then it's gone," she said, "So I'm definitely a green space lover."
Eileen Labella, 64, of Lynn, said that as a self identified conservationist, she would definitely support the passage of the bill.
"I like natural things," she said. "I like parks. I like, you know, endangered species. I like wildlife."