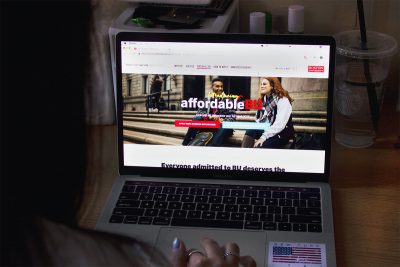 Starting in the fall of 2020, Boston University's new financial aid program, affordableBU, will be available to incoming freshmen. The expanded financial aid will be given to domestic students and will meet 100 percent of the calculated needs of admitted students.
After considering a student's FAFSA and CSS profile, BU will determine what a student's family has the ability to pay. From there, students can receive varying financial aid packages ranging from scholarships, work-study, and low-interest student loans or grants.
In the 2017-2018 academic year, 22.6 percent of undergraduates had their calculated need fully met by BU, according to the website College Data.
BU Spokesperson Colin Riley said this new program has been one of the school's main focuses for the past few years.
"This is something the president and the senior administration of President Brown have been focused on for some time," Riley said. "It's something that began a couple of years ago, obviously, for the effort to increase."
BU alumnus Richard Cohen began a program in 2018 to match every dollar donated for need-based undergraduate financial aid at Boston University. Riley said the money from this program allowed BU to implement affordableBU.
"Richard Cohen is a trustee and he created a program that in which that was able to take place," Riley said. "Beginning next year, there will be a significant increase in the financial aid budget, financial aid investment, so that we're able to meet 100 percent."
Need-based financial aid scholarships for those who qualify will also increase with tuition increases every year, according to the affordableBU website. Financial aid did not previously increase along with tuition raises.
The Office of Financial Aid and the Office of Admissions referred all requests for comment to Riley.
Amanda Bittles, a sophomore in the College of General Studies, said she like BU's new program.
"I think that'd be awesome," Bittles said. "I know, especially with my parents, everything was about what school I would go to and how are we going to afford it. There were schools I turned down because it was just not a financial option to go to."
Natalie Kulick, a senior in the College of Communications, said she believes a program like affordableBU should have been implemented earlier, as it could have impacted many more students.
"I think, better late than never," Kulick said. "My friend actually almost wasn't able to come to school this year for her last semester of college because financial aid wasn't giving her work study money."
CJ Freda, a sophomore in the College of Arts and Sciences, said he thinks it's unfortunate that the program was not applied to current students, but he is happy that program is taking place.
"I mean, I guess it would suck for us," Freda said, "but as long as someone else is getting it and at least benefiting, it's still a beneficial thing."