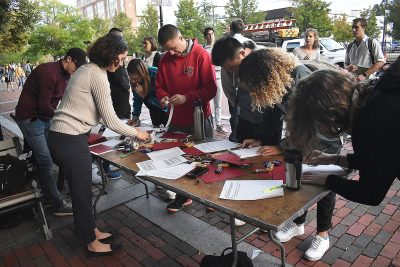 The Every Voice Coalition, a Massachusetts-based sexual assault prevention advocacy organization, held a letter-writing event on Monday where Boston University students could send letters to state legislators voicing support for two bills that would address sexual assaults on college campuses.
The hour-long event took place at 6 p.m. in the George Sherman Union Plaza.
The first bill, H.1208, would require all colleges in the state to conduct sexual misconduct climate surveys and make the results public. The second bill, H.1209, would require all colleges in the state to have a confidential advisor students can go to in the event of an assault and would codify many Title IX protections that aren't enforced by President Donald Trump's administration into Massachusetts law.
John Gabrieli, the co-founder and co-chair of the Every Voice Coalition, said that the organization has gotten over 90,000 students and supporters to sign their petition for these bills, and more than two-thirds of the Massachusetts legislature have signed on as co-sponsors, yet they still haven't been able to get the bill out of the legislature.
"Our focus has been turning these bills from a consensus into a priority," Gabrieli said. "It's just a question of drawing attention to this issue, because it has been known as a silent epidemic for a long time, where there's been such a stigma associated with talking about sexual violence, speaking out about it."
Students crowded around a table set up in the GSU to write their letters to Massachusetts Speaker of the House Robert DeLeo of the 19th Suffolk district and Representative Jeffrey Roy of the 10th Norfolk district, who is the chairperson of the Joint Committee on Higher Education. Volunteers for Every Voice approached Comm. Ave. pedestrians to ask if they would contribute a letter.
Every Voice brought a hundred envelopes with them and by the end of the event all one hundred had letters in them ready to be sent to the legislators.
Every Voice's BU Campus lead, Kelsey Brown, a sophomore in the College of Arts and Sciences, said she felt that having this on-campus event helped in Every Voice's fight to get these bills passed.
"It's really important to show these legislators that students have a voice and that students will continue to show up and care about this," Brown said. "Even if the bills don't pass like we'll continue to file them and we'll continue to show up."
This is the third time these two bills have been filed, the first time being in January 2015, Gabrieli said, but there are over 10,000 bills filed in Massachusetts every year, so they are hard to pass if they do not get attention. However, he said he believes this time will be different.
"We're as close as we have ever been to finally pushing [the bills] across the finish line," Gabrieli said.
Bruce Hallgren, a sophomore in CAS, said he had never heard of the event before volunteers at the plaza asked him to write a letter, but he thinks these letters will help their cause.
"I worked at the House of Representatives for a bit, I interned up there, so I'm kind of aware of how many bills pass through an office." Hallgren said. "Getting letters talking about a particular bill is a really great way to raise advocacy for that bill and getting people to do stuff for it."
Jerren Dang, a freshman in CAS, wrote a letter during the event but said he wasn't as confident these letters will lead to a change.
"I really do think it is a problem that should be addressed,and I think it's nice that they're actually out here doing something," Dang said. "[But] it doesn't always reach the reps."
Kirsten Alafriz, a freshman in CAS who also wrote a letter, said she thinks this is an important national issue and it's good that it's being addressed on campus.
"I think it's great that students out here on campus are actively looking to encourage others to speak out to their political representatives to take action," Alafriz said. "It's demonstrative of genuine care for issues on campus."