Watching the most recent Democratic debates, and even the presidential race at large, democratic socialism has become a focus for candidates and voters alike. Presidential hopefuls like senators Bernie Sanders and Elizabeth Warren (in addition, BU alum and U.S. Rep. Alexandria Ocasio-Cortez) have been vocal progressives in their time within the political system. On campus, their ideas have found resonance.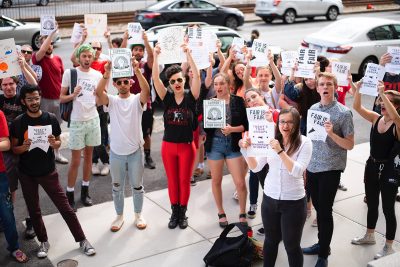 Young Democratic Socialists of America at Boston University was started by Hannah Kinney-Kobre and Claudia Benincasa after the 2016 election and the rise of Sanders as a well known political figure in the Democratic party. 
Looking at the active Boston branch of the local Democratic Socialists of America, the two decided to gauge interest of BU students in forming a similar club. Anu Sawhney, YDSA vice president and senior in the College of Arts and Sciences, said there was a fair amount of interest in the club.
"I think close to 100, I think, [signed up] that year at Splash, which was good because I don't think we even had a table," Sawhney said. The club had set up a small table outside of Splash their first year as they were not registered for the event.
"Three years later, we had a lot of people come through and say 'Oh my god, I've been looking for you, I've been looking for a club like this,'" Sawhney said.
On campus, the club is mainly focused on student activism — their first major issue was advocating that campus tour guides be paid, which garnered a lot of support from students (especially the unpaid tour guides), leading Student Government to take on the issue. 
"We try to talk things through no matter where you fall on the spectrum," Sawhney said on YDSA's weekly meetings. "We understand that people who join are only socialism curious and they're not like 'Yeah, I'm a democratic socialist.'"
Treasurer and a junior in CAS Justin Messmer said he thinks that candidates like Sanders are opening the door for socialist groups to move towards more acceptance.
"My experience has always been that there's extreme institutional hostility towards kind of these more democratic socialist ideas," Messmer said. "that being said, I think Bernie is the person who kind of popularized it and AOC has been absolutely fantastic at that as well, in bringing lots of people to take a look at these ideas and realize that we live in a country and a world that is increasingly unequal."
Messmer also said he thinks the large interest at Splash Saturday is conducive to a more wide-spread acceptance on campus. In the future  YDSA aims to work with more groups on campus, in order to not only get more involved in activism, but to get more activists involved in the club.
"I think there's been a significant change, because more and more people, especially young people, are moving toward the left on a lot of these things and I think that's really fantastic," Messmer said. "And what we're going to have to remember is that we can't do any of this without coming together."
Lukas Ruschak, a sophomore in CAS, joined the club his freshman year at Splash and has continued to be a supporter of the club. While he believes socialism as a whole is a broader field of multiple ideas, he said the more mainstream brand from Sanders and Ocasio-Cortez is getting more people invested.
"In terms of people like Bernie Sanders, I feel like that's a much more accepted thing — he's a very popular guy, and AOC and those kinds of democratic socialists," Ruschak said. "Because people are kind of getting sick of the center sort of thing, and of course with the right wing side of things, and I think that's a good alternative."
Sawhney said she wants it to be clear that the club is its own entity, that they know who they are, aside from any criticism towards their political beliefs. 
"As the Young Democratic Socialists at Boston University, we know … why we're working, what our goal is on campus," Sawhney said. "We're working for fair labor, to eliminate sexual violence on campus. We're working for the main things that you'd expect our institution to do for us as students."