With programming seven days a week, 20 hours a day, the radio station in the College of Communications is a hub for students to let their creativity and love for, well, anything, burst through the speakers of listeners at on campus and at home.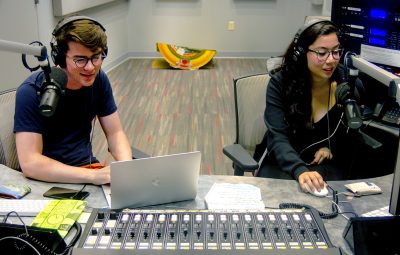 In 2017 WTBU opened their new, state of the art, studio following a fire that deprived them of their old stomping grounds. Two years later the station has put their expanded studio space and new equipment to work by continuing to cater to BU students interested in running their own radio show, as well as the various other jobs surrounding the radio business. 
Zoe Salvucci, a senior in COM, said she thinks WTBU has helped her explore her own passions and find ones she didn't think she would have.
"It's literally the best way to get your foot in the door, cause you make a professional portfolio with no experience at all," Salvucci said.
Salvucci went into the station with the goal of playing music she liked, because she never heard it played enough. However, she didn't expect to become the station's Promotions Director two years later. She now contacts bands and requests press passes for students, and is also a DJ for two shows. In her time at WTBU, Salvucci made a slow transition from her film and television major to wanting to work in the music industry.
"I didn't [want] to do photography or work in the music industry at all," Salvucci said. "I'm still a film major but I pretty much have no interest in working in the film industry anymore."
As a freelance videographer and photographer, and with her mandated station experience complete, Salvucci got the opportunity to shoot for various bands, including one that led her to the group she now manages, Jeb Bush Orchestra. 
Monica Sucic, a junior in COM and president of the BU Music Business Club, started at BU as a Neuroscience major. She didn't plan on going into the music industry, but after doing concert photography for a band she loved, Hippo Campus, Sucic kept up her work with the station.
"I was really lucky that I got set on an entirely different career path," Sucic said. "After that show I met the band and they were just like 'Oh you shot the show that's really cool, you should definitely pursue that, you seem very passionate about it.'"
Sucic started out doing photography for bands before moving into reviewing and interviewing. Following an internship event, Sucic got a job at Sony as a College Marketing Representative and researcher for how to connect bands with college students. Her boss at Sony had looked at her work with WTBU and offered her her current position,.
"I never saw myself in the music business until I got that position with Sony," Sucic said. "But I never would have gotten that position without WTBU."
Abigail Lebet, a senior pursuing a dual degree in the College of Arts and Sciences and COM, is the editor-in-chief of the WTBU monthly publication, "The Beat" and cites WTBU as being the best part of her college experience.
"I didn't get [a summer internship] through WTBU," Lebet said, "but I think working in music and doing WTBU definitely kept my interest going in working with the music field so that was also great experience to add on top of that."
Unlike Salvucci and Sucic, Lebet feels her place is in graphic design for bands and various groups in the music industry.
"I don't know that WTBU is a direct connection through the opportunities I've had from that," Lebet said, "but I feel like it's definitely broadened my mind and given me a lot of different perspectives on things about the music industry and related stuff and directions I could go with that."
All three students agree that the best thing to do for anyone looking to get their start in the music industry is to try working with the station in any capacity.
"To everybody I would just say to try," Salvucci said. "Try it, because you never know what you might like."