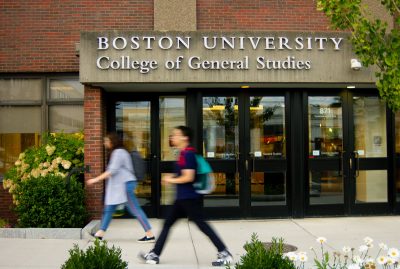 The College of General Studies at Boston University no longer offers students the chance to study on campus for their first fall semester. All incoming CGS first-year students will now arrive on campus for the first time in January 2020 and take a summer semester in London or Boston.
BU Spokesperson Colin Riley wrote in an email that many CGS students will benefit from this new program.
"It seems attractive to a number of students who also benefit from spending time studying abroad in their freshman year," Riley wrote. "And the enrollment is growing."
From now on, all students accepted into CGS will start with a gap semester. They will all attend BU for the first time in January and study in London or Boston over the following summer.
Natalie McKnight, the dean of CGS, wrote in an email that a January admissions program is very popular in other universities and a gap semester can have its own benefits for students.
"Many universities have January admissions programs," McKnight wrote. "One reason is that more students study abroad in the spring than in the fall, [is] so universities have the capacity to bring in more students in the spring. But there are other benefits that relate more to the student experience. The gap semester has proven to be really valuable to incoming freshmen."
Courtney Zenner, a sophomore in CGS, was a student that came through the fall semester program of CGS and said she would've liked to see BU keep the fall semester as an option for CGS freshmen.
"I'm sad to see that they are no longer offering the CGS fall semester," Zenner said. "I don't think I would have applied for the CGS program if I had to take the gap semester. I'm sure it is great for a lot of people and study abroad looks fun but I don't think it would be for me."
Ember Larregui, a sophomore in the College of Communication, said she believes this could be the first step towards phasing out CGS permanently.
"I think with this removal, this can be the first step of removing CGS entirely," said Larregui. "CGS seems a watered down version of BU academics and maybe it is a good thing that they are downsizing this program."
BU administration has made no indication that CGS in in the process of being phased out.
Gap semesters before college can be a useful resource, McKnight wrote.
"Many travel, or do internships, or work full time, or do a combination of these choice while taking a course or two," said McKnight. "Their experiences seem to energize them and get them even more excited about college than students who start back to school in September, just as they've started back to school every September for 13 years."
McKnight also wrote that a gap semester can provide students a chance to reflect on their goals for college.
"A January start breaks up the routine of that common practice, gets students to be more reflective about their education and what they hope to get out of it, and provides them with an opportunity to explore interests beyond academics," McKnight wrote.
BU's 2023 admission statistics, with 18 percent acceptance rate this year and 3,100 incoming freshmen, has not been affected by this change of program according to McKnight.
"While the change naturally affects the number of students who start BU in September, our target enrollment has been and continues to be 600 incoming freshmen and the January start has not changed that," McKnight wrote.
Usman Anwar, a freshman in the CGS Boston-London program, wrote in a direct message that he wasn't aware of the previous system and wishes that he been able to choose between the Boston-London program or the standard fall semester move-in.
"I would have loved to start on time along with the rest of the university," Anwar wrote. "Having that option would have made my decision to commit to BU a lot simpler."
Chirag Lalwani, who is also in the Boston-London program, wrote in a direct message that he thinks the program is great.
"I honestly seeing studying abroad my first year of college," Lalwani wrote, "especially in London, as an opportunity I don't want to pass on."
CORRECTION: A previous version of this article stated that all CGS freshmen will attend the London summer session. Freshmen may choose to study in London or Boston. A previous version also did not explicitly state that the student opinion that CGS will be phased out is not supported by BU administration.