Cloud Paint, Boy Brow, Lidstar, Haloscope, Wowder, Generation G — do any of these names ring a bell? If so, you're likely a dedicated fan of the cult-beauty brand Glossier, in all it's millennial-pink glory.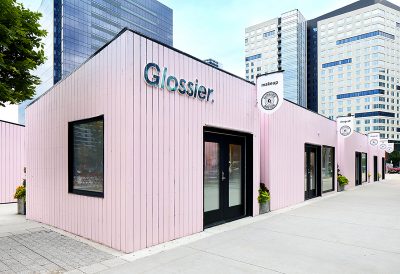 Glossier is known for its cool-girl aesthetic and fresh take on the makeup industry.  Founded in 2014 by Emily Weiss, the brand has a mostly online presence with only two permanent locations: their flagship store in New York City and their Melrose Place Los Angeles location, which opened its doors last year. 
While interning at Ralph Lauren when she was fifteen, Weiss started a beauty blog titled "Into the Gloss" which looks at beauty through people, style and personality. The blog became a community for others interested in a new kind of makeup industry, one different from the airbrushed norm. Four years after the blog began, Weiss started Glossier selling only four products, with an emphasis on "skin care first, makeup second." 
Boston's pop up experience is the brand's third of 2019, following successful stints in Miami and Seattle.  On Tuesday, Glossier announced its next pop up location in Austin, Texas via Instagram. 
Glossier's Communications Coordinator, Reed Redman, wrote in an email that each location's pop up experience draws on themes from its host city. 
"This year we have opened Glossier Miami," Redman wrote, "a vibrant space inspired by the city's iconic art deco architecture, and Glossier Seattle, a space inspired by the city's natural landscape that brought together industrial elements with meadow-like hills full of locally sourced flowers."
Boston's Glossier space, which has been open since Aug. 7, draws inspiration from the many universities around the city and Boston's unique sports culture. Along with shopping for perfectly packaged skincare and makeup products, visitors to the pop up can purchase Glossier Boston composition books, pennant flags, pens, enamel pins and baseball hats. 
A portion of the proceeds made at the Boston Glossier pop up, Redman wrote, will go to the Boston Alliance of Lesbian Gay Bisexual Transgender Queer Youth to benefit the LGBTQ commnity in Boston.
The pop up, located at The Current, a "fashion-forward" pop up village in Seaport is comprised of nine distinct huts. Each hut, painted Glossier's staple pink hue, features a different interactive shopping experience. There are three "shop all" huts where visitors can sample Glossier products, as well as separate makeup, skincare, perfume, eyebrow and lipstick huts.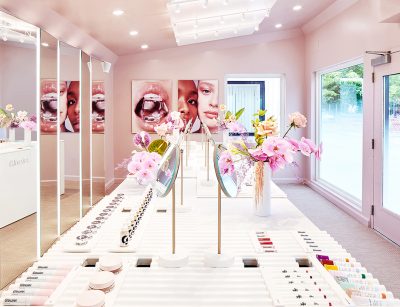 Hannah Palacios, a junior in the College of Arts and Sciences and College of Communication, said that as soon as she found out the brand was coming to Boston via Glossier's Instagram, she went to their career page and applied to work as an "Offline Editor." 
Offline Editors, Palacios said, don custom pink Glossier jumpsuits, assist customers with products and help curate the Glossier Boston pop up experience for customers.
"The thing I get to do all day is to make people's day," Palacios said. "Most people who are coming in [to the pop up] know the brand and are so excited that there's finally a pop up, so everyone is so excited all the time. It's really nice to give someone something that they've been looking for." 
Palacios' roots with Glossier extend far before she was handed her pink jumpsuit; she truly believes in the core values of the beauty company. 
"I had super bad acne growing up … and nothing could make it go away," Palacios said. "I tried their solution and it got rid of all my acne, my dark spots and all the scars. The whole point of Glossier is to be confident in your own skin before putting anything else on top of it, and that is truly what happened for me." 
Vanessa Xu, a sophomore in the School of Hospitality Administration, said she decided to give the pop up a visit because she was running out of her favorite Glossier products, but also because she wanted to give some new ones a try. 
"I was literally digging out the last bits of my highlighter," Xu said. "The pop up is definitely smaller than I had expected, but for some reason, the layout of the pop up made it so tempting for me to want to try out every single one of their products, also to purchase them."
One month into the pop up experience and with one month left, Glossier Boston is still as packed and vibrant as ever. So packed, in fact, that Offline Editors are also tasked with managing the line for the "Generation G" perfume hut. Individual huts are brimming with excited customers.
Purchases are ordered by checking off the product's box on a Glossier "menu" and received at a hut reserved solely for purchased products. Customers' newly obtained makeup and skincare items come packaged in Glossier's patent pink bubble wrap zip bags, which include a limited edition Glossier Boston sticker and a skincare sample. 
CAS sophomore Lexy Pickering said her experience at the pop up was not only defined by the products, but the aesthetic of the huts themselves. 
"The marketability of their products is undeniable," Pickering said. "Within the first thirty minutes I was gravely outside of my budget and my left hand was camouflaged by swatches. And I thrived on every second of it."