In an attempt to reorganize her closet during the summer, BU student Daniela Tellechea decided to ditch typical methods of getting rid of excess clothes. Instead of sending them straight for a landfill or thrift store, she found a way for her clothes to make a difference.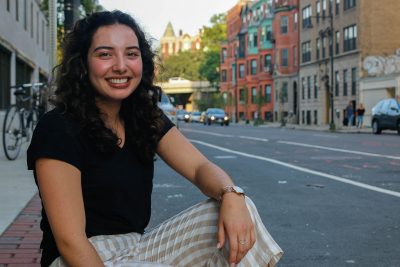 This past summer, Tellechea, a junior in the College of Communication from California, started an Instagram account where she posts pictures of her used clothing and charges between $1 and $5 for them. The money she makes from selling the clothes is fully donated to The Refugee and Immigrant Center for Education and Legal Services, an organization that provides low-cost and free legal assistance to immigrant families.
"People sell their clothes online all the time … and I was like okay, I can sell these clothes, make money, but instead of keeping the money for myself, I'll just donate it," Tellechea said. "And I already donate to RAICES as often as I could, and this was just a way to help me do it more consistently."
Tellechea said she feels very passionately about RAICES' mission, which strikes very close to home. 
"I come from a Mexican immigrant family and without them I would be nothing," Tellechea wrote in a direct message. "My dad especially is a big inspiration to me because he immigrated from Mexico, became a first generation college student and just got his master's degree to become a school administrator."
Tellechea said while she was always retweeting or posting on her story about issues happening at the U.S.-Mexico border, she felt that she could do more to help the situation.
Initially, Tellechea said she didn't expect much to come from the account — maybe a few small donations at best. However, support starting flowing in from her small neighborhood in California and Tellechea said she ended up making $355. 
"[Because the account found success in Chico] I wanted to bring it here," she said, "because I feel like we could do more."
Tellechea then made a new Instagram account called ropa4raices.boston to help bring her account to the BU community. She also began setting up drop offs around campus for students to donate their own clothes to the page.
Tellechea said her main goal with the page is to get people more involved with charity and help inspire donations from people who might feel like they aren't doing enough when contributing on their own. 
Angoori Rana, a junior at Cornell University, saw Tellechea's work on Instagram and said she was inspired to bring the same idea to her own school.
"I have a lot of clothes with tags still on them," Rana said, "and in general I feel like, especially when we were moving back to school, a lot of my friends were getting rid of clothes and stuff and I think it's really easy to clean out your closet and and really make a difference that way."
Grace Mecha, a junior in the College of Arts and Sciences, was inspired by Tellechea's work as well and recently bought from the account to support her friend and the organization.
"I want to be a smart consumer or an ethical consumer, so I really like the idea of her giving all the proceeds to the organization and recycling clothes," Mecha said. "The pieces were really cool and they were going to a really great organization."
The biggest draw to buying or donating clothes, according to Tellechea, is that people can make a tangible difference
"People feel like 'oh I'm doing good too,' and that's something I always try to emphasize on," Tellechea said. "As soon as I donate, I'll [direct message] everyone who has contributed to that donation, and I say 'hey, this wouldn't be possible without you, emphasizing the fact that as a team we can do this and it is definitely doing something."