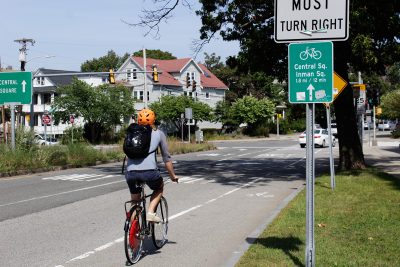 The Massachusetts Department of Transportation awarded $5.1 million dollars, split between 18 different cities across the state, to help fund construction projects that will improve the safety and accessibility of city roads for all its users, including pedestrians, bicyclists, motorists and public transit riders.
The funds were allocated as part of the Complete Streets Funding Program, which was established to help fund street improvements in cities across the state and has awarded a total of $38 million since February 2016. 
The 18 cities chosen during this round of funding will use the money for a variety of street improvement projects, which include creating bicycle lanes, replacing sidewalks and installing speed-monitoring radar. The cities were awarded anywhere between $100,000 and $400,000 dollars for these projects.
Massachusetts Governor Charlie Baker said in a press release that the state has always been committed to improving the safety and accessibility of its city streets, and that the Funding Program will work with a bill recently proposed by Baker that seeks and additional $18 billion in funding to modernize the state's transportation system.
"We are pleased to have included support for the Complete Streets program in our administration's recently filed transportation bond bill," Baker said in the press release, "so that the Commonwealth can continue to invest in improving mobility, access, and safety for all roadway users across the Commonwealth."
Of the $18 billion dollars requested in the bill, $20 million will be reserved for the Complete Streets Funding Program, according to the bill.
The rest of the bill's requested money will be used for various transportation initiatives, including creating a program to prevent traffic bottlenecks on local roads, expanding the use of bus lanes, improving pavement and bridge quality and modernizing the Massachusetts Bay Transportation Authority, according to a state press release.
Stephanie Pollack, Massachusetts transportation secretary and CEO of the MBTA, said in the press release that MassDOT has worked with cities across the state to develop complete streets plans that will  "increase safety, accessibility, and connectivity throughout the Commonwealth."
"Complete Streets design concepts are important because they support people using all modes of transportation and help ensure that travelers safely and efficiently reach the places they need to go," Pollack said in the release.
As of Thursday, 201 municipalities have had their Complete Streets plans approved, while an additional 161 have approved improvement project prioritization plans.
Patrick Marvin, a spokesperson for MassDOT, said that these complete streets plans allow equal access for all forms of transportation.
"That gives people options, allows healthy transportation and ensures people have access to the opportunities throughout our communities that makes Massachusetts a great place to live," Marvin said.
Marvin said the funding program places an emphasis on allowing cities to design their own improvement plans themselves, as each city has different transportation needs.
"This is a great program that empowers communities, allows them to carry out work in their cities and towns, because they know them best," Marvin said. "They know what makes sense."
As for how the state decides to divide the program funds, Marvin said that municipalities are required to file an application to MassDOT describing how the planned construction will benefit the city's road users. Then, the city awards money based on a "competitive scoring"
The cities that received money during the Complete Streets Funding Program's most recent round of funding are Abington, Ayer, Buckland, Chelsea, Cohasset, Dedham, Ipswich, Lincoln, Lynnfield, Millburry, Nantucket, Pittsfield, Rockland, Shirley, Somerset, Springfield, Topsfield and West Bridgewater.
While Boston is not receiving money during this round of funding, the city does have its own Complete Streets plan that it is working with the state to implement.
Christina Conway, 32, of Brookline, said she noticed that Boston's streets needed improvement, despite the fact that she does not drive within the city.
"Even when I take an Uber, there's a lot of bumpy roads I noticed, all the time," Conway said, "and there always seems to be detours and issues with the road. "
Brighton resident Nick Fucci, 24, said he drives quite frequently within Boston and has noticed that the city's roads are particularly dangerous for those on bicycles.
"I think it's a horrible city to bike in," Fucci said. "My roommate bikes a lot, and he's had some tough incidents where he's had some close calls."
Diana Martinez, 23, of Jamaica Plain, said the state needed to make sure that it's city streets were accessible to every one of it's users, taking special care to accommodate the needs of those with disabilities.
"Everyone has to work," Martinez said, "everyone goes to school, everyone needs to get around, and you can't do that if it's not accessible for someone who, let's say, has a disability, whereas an able bodied person can use the sidewalk."