Boston is home to America's first subway system, which, according to the Massachusetts Bay Transportation Authority, today transports over a million riders a day via its four main subway lines, buses and commuter rail.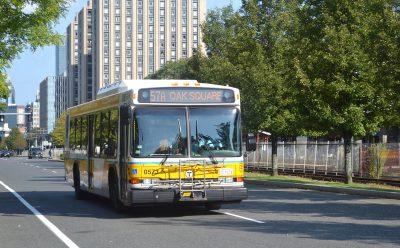 Now, the MBTA is looking to be ahead of the curve again. Transportation is currently Massachusetts' largest source of greenhouse gas emissions according to the Sierra Club Massachusetts chapter, but by launching a pilot program of five all-electric buses on the Silver Line, that might be on the brink of changing. 
Three of the five 60-foot, battery-electric bus prototypes went into service on July 31. Over the next two years, data will be collected to measure the BEB's performance.
Tyler Finch, a junior in the College of Arts and Science at Boston University and an intern data analyst for [email protected], said that carbon levels in the atmosphere are higher than they have been since the Industrial Age in the late nineteenth century. 
"Urban communities [have] greater strain on environmental factors," Finch said. "The fact that [using electric vehicles] is becoming more popular among cities has been impressive to watch." 
However, while cities like New York and Los Angeles have already committed to going 100 percent electric, Boston is taking a slower approach. The MBTA purchased 575 fossil fuel buses in the last four years, which is 50 percent of their fleet, according to the Sierra Club, 
However, the MBTA is working to update and repair the bus system through the Better Bus Project, which hopes to replace subway fleets, upgrade tracks and change bus routes based on changing demographics. 
Bridget De La Torre, a senior studying earth and environmental science in CAS and vice president of Divest BU, said the BU shuttle currently uses biodiesel, which is a replacement for traditional fossil fuel that uses animal fat or vegetable oil, and according to the U.S. Energy Information Administration creates fewer pollutants. 
She said that BU's Climate Action Plan, approved in December 2017, "has influence … in the climate change arena."
Although the plan encourages "a pilot study of the implications of shifting to electric buses in the 2022 time frame," Finch does not expect electric shuttles will be used on campus in the near future.
"Right now the main source of [BU's] emissions are our utilities usages," Finch said. "That's where the wind farm comes in." 
In September 2018, the university signed a 15-year contract to purchase green energy from a South Dakota wind farm. However, Finch believes that transitioning to electric buses should be a part of that plan.
"If BU could implement [electric buses], it could provide us with … a status that other universities or even the city would want to follow," Finch said.
De La Torre worked at the Massachusetts Department of Energy Resources last year as an intern for the Clean Cities Program, where she researched electric vehicles and how they are best used.
In early 2017, the Amherst, Cambridge and Concord school districts received grants to implement electric school buses in a pilot program, whose findings showed that "electric school buses are still an emerging technology that requires more testing … before it is widely deployed in school transportation services," according to a 2018 evaluation of the project by the department.
De La Torre credited this to failure of parts at times, which had to be repaired or replaced by the manufacturers, Lion Bus, in Quebec City. She said future research needs to be done with the MBTA buses during the winter because additional battery power is required for heating when temperatures drop. 
Anthony Wong, a PhD candidate in earth and environment at BU, who researches air quality, said that electrifying vehicles would only benefit the net-zero carbon emissions goal if the electricity used to power the vehicles came from a clean source like wind energy. 
"Moving to electric vehicles looks like a very green option at first sight, but there are other complications, like how green the plants are," Wong said. "Rather than say one option is greener we should … do more careful research before we act."
"I think we're on the right track," De La Torre said, "it just needs to start accelerating."