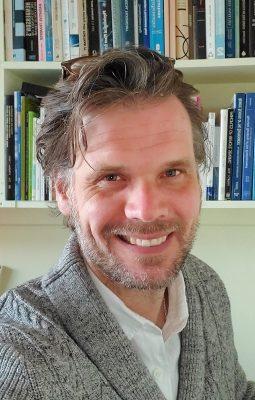 Boston University professor of earth and environment Pontus Olofsson was awarded two grants from NASA on Friday to research forest degradation using satellite data.
Olofsson, a research associate professor in the College of Arts and Sciences, received a grant for himself and his team, Alessandro Baccini, Lucy Hutyra and Curtis Woodcock, from the NASA Carbon Monitoring System and a grant from NASA SERVIR, which uses satellite data to help developing countries on Monday.
Olofsson said he was confident in his grant proposals for further satellite research of forest degradation but never expected to get both grants from NASA.
"I knew I'd written good proposals," Olofsson said. "I knew they were relevant to the programs, but you know, it's always pretty competitive, so I wasn't expecting to get both funded. We need to hire a lot of postdocs and graduate students."
Forest degradation is the removal of trees or biomass from a forest without the conversion of the land into something like agriculture or pastures or a developed area, Olofsson said.
"So it still remains a forest, it's just in a degraded state, and that makes it much harder to monitor," Olofsson said.
Less research has been done on forest degradation than deforestation, Olofsson said, meaning models of carbon emissions can be inaccurate. Olofsson's research improved the accuracy of detection technology for forest degradation by using a larger amount of more precise satellite data.
"If we don't include forest degradation, we're underestimating the amount of carbon emissions," Olofsson said. "Recently, we have started working closely with Google … and now we're in a better place than we've been in the past, simply because we have access to a vast amount of satellite data."
Olofssen will use the grant from NASA's Carbon Monitoring System for increased satellite monitoring of carbon emissions in the tropics to track deforestation and forest degradation.
Current methods of monitoring forest degradation are inadequate, the proposal states. By taking advantage of modern technology and new techniques and algorithms, the researchers hope to create a more accurate analysis of carbon emissions related to forest degradation and deforestation.
The grant from NASA SERVIR will fund research into forest degradation in West Africa.
The proposal states that forest degradation and deforestation are widespread in West Africa. By using advanced satellite data on forest degradation the researchers hope to give people enough information to meet the environmental challenges in that region.
Olofssen said the purpose of the research is to help countries, especially tropical countries, monitor the quality of their forests.
"A lot of what we do is in support of tropical countries, so we're helping tropical countries to monitor their forests and deforestation patterns and so on and so forth," Olofssen said. "So that's kind of at the at the heart of everything we do."