Every Sunday from May to October the SoWa Art + Design District hosts the SoWa Open Market, which features artist studios, galleries, clothing and art booths, food trucks and produce stands. All it takes to get to this weekly hodge podge of art and food is a 30-minute T-ride from Commonwealth Avenue.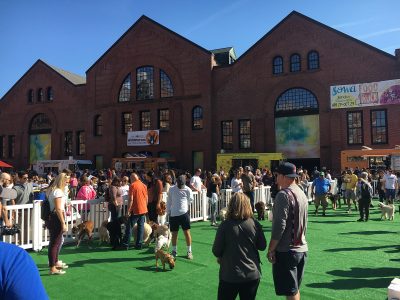 This year marks SoWa Open Market's 16th season and brings over 175 creatives and artists together to display their work to thousands of visitors. 
There are 28 galleries in SoWa, including the International Poster Gallery, which specializes in vintage, antique posters and Pinkcomma whose "role is often activist in nature, promoting works that may be at times politically unpalatable or financially untenable, unpopular or unacknowledged," according to the gallery's website. 
SoWa is constantly growing. However, some business owners in the area feel the district is not well known enough.  
Claire Carino, who owns Claire Carino Contemporary Gallery, has had her gallery in SoWa for three years. Despite the influx of people visiting the market, Carino said SoWa competes against the commercialized Newbury Street as Boston's prime shopping destination.
"The SoWa District is an area that will always need attention to get people down here," Carino said. 
Certain galleries even have their own booths in the open market to help bring exposure, according to Carino. 
"Some of the businesses … will have booths out in the parking lot, too," Carino said. "So like people that might feel intimidated about coming in."
The Drift Collective, one of the booths at the market, is an upscale clothing company created by Emily Stearns and Libby Lockhart located in Portsmouth, New Hampshire. The company sells hand-dyed and hand-stitched items and has had a booth at SoWa for three years. Lauren Cooney, longtime employee of the Drift Collective, said the company is looking to introduce themselves to college students through SoWa. 
"[Stearns and Lockhart] saw this market and it ended up working out way more than they expected," Cooney said. 
Every other week, the Drift Collective booth has a double tent where they customize items based on customers' requests in front of them. 
One block away from the market, a parking lot is lined with food trucks, a beer garden, picnic tables, live music, corn hole and lavender ice cream bars. Irina Navarro, a College of Arts and Sciences and the College of Communications senior, said her favorite part of the market was the food trucks.
Navarro found out about the Open Market through word of mouth. She said her expectations of SoWa was that it would just be fancy farmer's market. But, when she arrived, it was more artistic than she originally thought it would be. 
"There were a bunch of vegan options as well as sustainable options that I really liked," Navarro said. "[SoWa] is a little bit out of the way for me but it's worth going to."