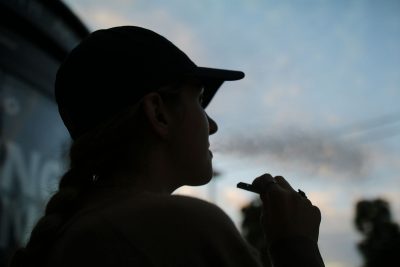 As news of the dangers of vaping spreads across the nation, the Massachusetts Department of Public Health released a mandate Wednesday requiring all lung injury linked to e-cigarette use be reported to the state for the next year. The new rules went into effect that same day.
Since initiating the mandate, 16 reports of potential cases of vaping-related illness have come to state attention as of Friday, according to an email from Ann Scales, spokesperson for the DPH. These will then be sent to the U.S. Centers for Disease Control and Prevention to determine whether these cases were truly caused by vaping.
The DPH had already sent out clinical alerts last month to 25,000 health providers in the state, requesting that the hospitals voluntarily report potential cases of vaping-related illness, according to a DPH press release. This week's decree, however, sets up a legal foundation for investigating vape-related pulmonary diseases.
Michael Feldman, a researcher at Massachusetts General Hospital's Pulmonary and Critical Care Unit, said he thinks the mandate is important to achieving a more thorough medical understanding of vaping's short and long-term effects on users.
"It's going to allow us to develop a lot more information to really help provide public information about what these risks are," Feldman said. "People can make some choices around it, and policy can be developed around it."
Feldman said the ingredients listed on vape products may not always reflect what's truly inside due to a lack of regulation in the e-cigarette industry. He added that several research papers published in recent years have relayed significant discrepancies between what's on the products' labels and what they actually contain.
"I know there's been some information about whether there might be different chemicals that have made their way into these products," Feldman said. "The labeling may not reflect what's changing in the production process — that may be part of this"
In addition to the potential dangers posed by the chemicals present in e-cigarettes, Feldman said the act of heating the water into vapor may release further toxins.
"Part of what you run into, too, is not just what to put in, but in a vaporizer, you're heating the liquid and depending on how you heat it, and for how long, you actually make all kinds of new chemicals, which is part of the challenge in studying these things," Feldman said.
Theresa Freeman, director of communications for the American Cancer Society in Boston, wrote in an email that while the long-term effects of vaping are still unclear, short-term consequences are already known to include "well-documented irritation to lung and vascular tissues." The organization will continue to collect information as new data emerges.
"To say something is less harmful than cigarettes is a very low bar: cigarette smoking remains the leading cause of preventable death in the U.S. and globally," Freeman wrote. "However, less harmful is not the same as harmless."
U.S. President Donald Trump acknowledged the rise in disease and death rates, proposing a potential vape ban in remarks shared on Wednesday. 
By Friday, the number of confirmed deaths due to vaping had risen to 6, according to USA Today.
Ian Jones, 26, of Quincy, said the reinvigorated controversy surrounding the safety of e-cigarette usage did not stop him from standing by his belief in consumer choice.
"If people want to do it, they should be able to. We shouldn't stop them," Jones said. "We let people take drugs, do alcohol, do lots of [harmful] activities, but maybe it's worth it to you if you weigh the consequences."
Ben Lahner, 22, of Cambridge, said he did not think that vaping is a viable alternative to smoking.
"My personal opinion is that it's not a good idea to habitually put chemicals in your body," Hernandez said. "It doesn't serve a purpose to nourish you or feed you. I think it's weird and a little frightening that people are dying. I would like to see more investigations into that."
Micahai Jones, 30, of Quincy had used vape to gradually wean off of cigarettes, but said results were lackluster.
"The only difference I felt health-wise was it wasn't as heavy but I still had the same breathing problems, like if I was exercising I would still be as tired as I was if I was smoking cigarettes," Jones said. "The side effects didn't change, it was still the same to me."
Despite still seeking a means to quit smoking, Jones is unsure whether vape is the solution.
"I don't know [if I would pick up vape again]," Jones said. "The reason I say I don't know is because I really want to stop smoking cigarettes, but I feel like I need some type of substitution."