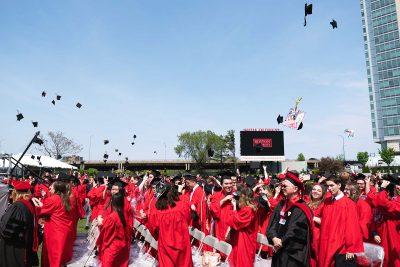 The Association of American Universities announced Thursday Boston University would be a part of a pilot program to make PhD education more student-centered.
The pilot program aims to prepare PhD students from all backgrounds for fields besides academia, according to a press release from AAU. There are eight universities participating in phase one of this pilot.
Daniel Kleinman, the associate provost for Graduate Affairs at BU, said people with PhDs have always gone into many different careers, but the standard assumption from universities has been that people with PhDs will stay in academia.
"Historically, we've assumed that people with PhDs would become professors," Kleinman said. "So in the course of this initiative, the goal is to … allow students to see what the range of careers might be for them."
The three goals of the initiative are to drive institutional change, promote data transparency and implement effective strategies for improving PhD career paths, according to the press release.
Kleinman said BU applied to be a part of the pilot program because it was already on the path that the AAU is advocating for. With the initiative they can advance their efforts more quickly, increase visibility for their efforts, and connect with other schools making similar efforts.
"When the call came out, the president, the provost and I all thought it would be a good thing to be in the company of the first AAU cohort," Kleinman said. "It would push our efforts to make PhD programming for the 21st century."
Sarah Hokanson, the assistant provost for Professional Development and Postdoctoral Affairs, said that other career options have to be "demystified" for graduate students because many of them go immediately from undergraduate to graduate school, so all of their training has been in academia.
"It's perfectly reasonable for PhD students to still want to be faculty," Hokanson said. "But I think it's more to get them thinking about the career distribution and making that as a deliberate choice, not the default choice."
Hokanson said the initiative involves giving PhD students a broader knowledge range in order to better prepare them for a wider range of job options.
"As a doctoral student, you primarily take classes in your discipline," Hokanson said. "So it's the professional development that helps make you a more well rounded candidate for some of these jobs in the workforce that require not just depth of knowledge, but also a broader skill set."
BU will be in communication with the other seven universities that are a part of this pilot program to track progress and learn lessons from one another's efforts, Kleinman said.
"We will learn from experts, we will learn from one another and then we will go back to our individual universities and work on implementing our ideas," Kleinman said. "I very much hope at the end of that time, we have implemented quite a number of changes in the way we do PhD education."
Hokanson said BU has already invested a lot in improving PhD programs and has been successful at receiving grants for this kind of work. She is looking forward to working with AAU and other universities to further improve BU's graduate programs.
"To me, this represents the progress that we've made, and then the work that is still yet to come," Hokanson said. "And I think both are really exciting."