Do you dream of blind testing wines and differentiating between a Bordeaux and a Chardonnay, or crafting a masterful béarnaise or hollandaise sauce? For the inner foodie, wine tastings and cooking classes might sound like the European trip of a lifetime. But just a short walk up Commonwealth Avenue in the School of Hospitality and Administration, students are experiencing the pleasures of cooking.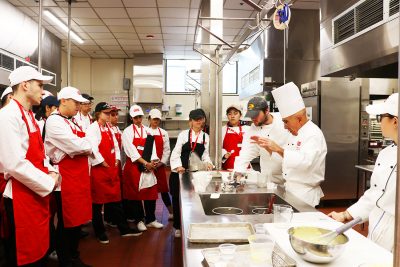 Professor Bill Nesto is one such epicurean educator. An author of two books covering Italian wines and the founder of the Wine Studies program at BU's Metropolitan College, Nesto is as much a lecturer as he is a registered Master of Wines. He currently teaches SHA HF 430 Advanced Wine Study, where students must be 21 and have completed another wine course as a prerequisite. 
In his class, Nesto emphasizes flavor memory and food pairings, while focusing on particular wine-producing regions.
"[The class] approaches how we taste," Nesto said. "In other words, when we taste wine, how does our sense of sight, our sense of smell, the palate sensations — how is that processed in our brain to create a sort of flavor image?"
Nesto emphasized the importance of SHA students being able to speak about wine and become comfortable with their sense of smell.
"Rather than relying on reviews of wine experts and guidelines and books about what goes with what, [the course is] really to make students think," Nesto said. "To really be independent, make their own decisions, develop their own aesthetic of wine."
Nesto, who has had an interest in wine since he started working at a French restaurant in the late '70s, said he believes that analyzing wine can be hard for students. 
"It's very difficult for students, sometimes to get [their wine aesthetic], because they're used to having exact answers," Nesto said. "They're not used to using these answers and they've probably never looked at them closely before."
Opening the mind to the gastronomical world isn't solely an uncorked experience. SHA HF 120 Principles of Food Production Management, taught by professor Nick Schiarizzi, takes students into the kitchen in what he describes as an experience close to the management of a restaurant.
Starting his first restaurant at 19, Schiarizzi brings his decades of experience as the owner of a catering business, as well as his time as a professional chef, to the classroom. While the course teaches students culinary skills, Schiarizzi likes to remind his students that they are not being trained to be chefs.
"What they're learning is how the back of the house operates," Schiarizzi said, "whether they're a beverage manager or a dining manager, or any kind of a restaurant manager — how they can understand what's going on in the kitchen."
A student in the course, Shanshan He, a senior in SHA, and a self-described "foodie," recently spent a semester studying abroad in Padua, Italy, studying food and wine. She believes the projects in the class felt realistic and simulative of the restaurant industry.
"We did a project on potentially investing in your restaurant and building a restaurant concept and finally presenting the restaurant concept with a team," He said. "You have to think about, okay, this is how you manage the restaurant, how people order and what kind of restaurant it is, the menu, the concept. It's incredible."
Schiarizzi also explained that understanding food costs and quality will help prepare students for their futures at home. Cooking saves money, something that college students stereotypically have very little of. A study conducted by the recipe website, Wellio, showed that dining out is five times more expensive than cooking at home.
"I think there's something added to someone's life, when they have the confidence to be able to cook for themselves," Schiarizzi said. "When these students take this class, they are able to cook for themselves for the rest of their lives."