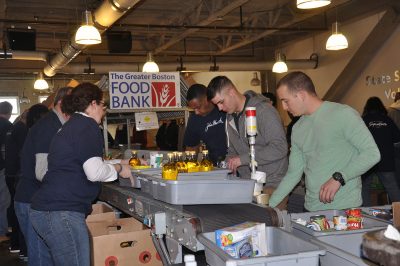 September is America's 12th annual Hunger Action Month and the Greater Boston Food Bank has been leading events throughout September to raise funds and encourage donations, while also celebrating those who work to combat hunger in their communities.
Catherine D'Amato, president and CEO of GBFB, said in a GBFB press release that Hunger Action Month was established to spread awareness about the pressing issue of hunger and food security across the U.S.
"Nearly 500,000 people in Eastern Massachusetts are food insecure and don't know where their next meal is coming from," D'Amato said. "During September, we are asking people to take some kind of action and every one counts towards our vision to become Hunger Free by 2028."
GBFB director of public affairs Catherine Drennan said in the press release that now was as important a time as ever to advocate for hunger awareness in the U.S., especially as the Trump administration is considering whether to restrict access to its Supplemental Nutrition Assistance Program.
"September is the perfect time to take action in support of the thousands of people across our state that face hunger every day," Drennan said. "If we don't act now, nearly 90,000 Massachusetts residents could lose access to their nutrition benefits and more than half a million kids might lose their school meals."
At the beginning of the month, Boston Mayor Martin Walsh declared Sept. 12 to be Hunger Action Day, and landmarks across the city — such as Prudential Center, Bunker Hill Bridge and Boston City Hall — were lit orange to spread awareness of the issue.
On Tuesday, the GBFB partnered with WCVB to raise awareness on the issue of hunger by airing a special event titled "Project CommUNITY: Fighting Hunger," according to a WCVB press release.
WCVB cited statistics showing that one in 11 people in Massachusetts are food insecure, meaning that they lack reliable access to a steady source of food, according to the press release. Furthermore, one in nine children and one in 13 seniors were struggling with food insecurity across both urban and suburban towns.
To combat this crisis, WCVB aired several segments between noon and 7:30 p.m. that explored the detrimental effect of hunger and food insecurity on local communities, according to the press release. Throughout the segments, viewers were encouraged to call in to either make a donation to the GBFB or to simply learn more about the issue.
The "televent" raised over $322,000 to support residents struggling with hunger, according to a later article published by WCVB.
D'Amato said in the release she was grateful WCVB agreed to partner with the GBFB to spread awareness of the widespread and important issue of hunger.
"Our friends at WCVB have generously dedicated a whole day to sharing those lived experiences of hunger and the 500+ programs who provide food to those in need in Eastern Massachusetts," D'Amato said. "We appreciate the commitment to raising awareness to our mission to end hunger and we believe every action counts to become hunger free in our community."
GBFB is also hosting an "Advocacy Day" on Sept. 24 at the Massachusetts State House on Beacon Hill, where activists will call on state lawmakers to do more to support food assistance and solve the "root causes of hunger," according to the GBFB's website.
On Sept. 25, the GBFB is hosting its 10th annual Women Fighting Hunger Celebration, where women from across the city will gather with business and community leaders to "respond to the challenge of hunger in our community," according to their website.
While GBFB is the primary organization promoting Hunger Action Month in Boston, it is not the only group working to combat food insecurity in the Greater Boston Area.
One such organization, the Preventative Food Pantry, works in conjunction with the Boston Medical Center to address nutrition related illnesses within their patients. A spokesperson said the pantry has helped thousands of patients get the nutrition they need every month.
"I know that we have helped around 7000 people with food insecurity at the Food Pantry," the spokesperson said. "We scan for it at BMC, when people come in."
When it comes to the issue of food insecurity in America, some Boston residents agreed that the city and state should take immediate action to eradicate the issue of hunger.
Deanna Inacio, 39, of Allston-Brighton, said she had personally seen the damaging effect hunger can have on human beings.
"In 2019, nobody should be suffering from hunger in the United States," Inacio said. "I've seen patients suffering from it, since I work in the medical field."
Ricardo Alvarez, 45, of Brookline said the city needs a well-nourished population to prosper.
"It's important for a city of this economic potential to make sure that the proper development conditions for all its inhabitants is met," Alvarez said, "and food security is one of those."
Anamay Chaturvedi, 25, of Jamaica Plain, said one way Bostan can fight hunger is by lowering food waste within the city.
"The City," Chaturvedi said, "needs to invest in better organization to keep good food from rotting and being unable to eat to prevent food insecurity."