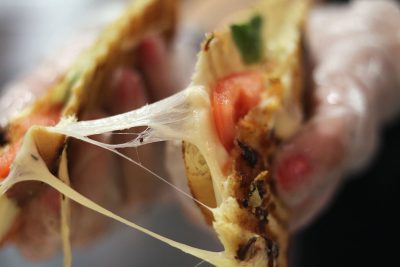 On Tuesday nights in the Warren Towers Late Nite Café, hungry students flock to the FeelGood grilled cheese station. While the goal of the pajama-clad students in line is to purchase a sandwich, the student volunteers behind the counter have a different objective: to raise money to combat world poverty.
FeelGood has raised $1.96 million to combat global hunger and poverty across their 25 chapters since its inception in 2005, according to the organization's website. Their grilled cheese sandwich sales benefit the Commitment 2030 Fund, a foundation their website describes as an initiative to eliminate global poverty by the year 2030 in a socially inclusive and environmentally sustainable way.
The Boston University chapter of FeelGood has been a staple of the Warren Late Nite Café for years, selling grilled cheese sandwiches for $6.50 from 10:30 p.m. to 1 a.m. on Tuesday nights.
Abigail Mack, a senior in the College of Arts and Sciences and the current president of the BU FeelGood, said she's been involved in the organization since her first year at BU.
"I feel like FeelGood is a really cool organization," Mack said. "It is kind of an interesting way to get people involved and to take something really simple like cheese and bread and then turn it into a really big impact to make a difference."
Anna Yum, a junior in CAS and the vice president of FeelGood, also believes in the unique mission of FeelGood.
"I think it's definitely unique in the aspects that we're not just asking for money, but we're also creating a business model," Yum said. "And it's very delicious."
The profits donated to the Commitment 2030 fund, Yum said, are subsequently divided amongst four organizations: the Pachamama Alliance, Water for People, The Hunger Project and Choice Humanitarian.
All four charities have different objectives but are aligned with FeelGood in their desire to accomplish their goals sustainably by 2030.
"A lot of the time in our organization, we get, like, 'by 2030? Like, that's real soon,'" Yum said. "But it is definitely achievable if you set your mind to anything. And by having a passionate group of people working with us, I believe that it can happen."
Chloé Kund, the program director of FeelGood's national organization, said FeelGood has plans to improve their organization in the future. She said she hopes to possibly expand to help local charities working to end hunger and poverty in the areas surrounding campus chapters in addition to the international organizations that they currently work with.
Last year, Yum said, the BU chapter of FeelGood exceeded their fundraising goal. She said she believes this is because of an increase in awareness about the mission of FeelGood.
"I honestly think it has also been because people are starting to know who we are," Yum said, "and, you know what, I guess what we're striving for this year… [is] for people to know who we are. Not just the not just grilled cheeses but beyond that, what our mission is and why we are here."
So far this year, FeelGood has only had a few events at BU, but Mack said that their first event went very well and that FeelGood has a very busy semester of events coming up, beginning with the BU sustainability festival Thursday.
FeelGood's model is very intriguing to many prospective members. Olivia O'Donnell, a freshman in the Wheelock College of Education and Human Development, said she was interested in FeelGood's unique concept and recently attended an interest meeting for the group.
"So at SPLASH I heard the word grilled cheese and I was intrigued," O'Donnell said. "So, I went and I talked to them… and what they're doing with, like, sustainability and helping others, like, that really attracted me."
Anwyn Johnson, a freshman in CAS, said he was impressed with the organization's unique model.
"I think it's a pretty cool idea, the fact that they make grilled cheeses which is dope," Johnson said. "And the fact that all the profits go towards a charitable cause is also pretty dope."
Siyu Chen, a sophomore in the College of Communication, said giving people grilled cheese is the perfect incentive to get more donations.
"Grilled cheese is a good idea," Chen said. "For a donation, you have to get money from people and if you can give something wonderful in exchange for that … I think that's a good idea."
Tajrir Tahtial, a freshman in CAS, recently discovered the FeelGood organization at BU. She said she is impressed with the initiative and ambition of the club's executive board and other members.
"I think it's a wonderful idea," Tahtial said. "I think nowadays, we're seeing so many politicians and people in power not doing anything about things that are really important and I think it's a great idea that these younger people are taking initiative and doing something about what they care about."