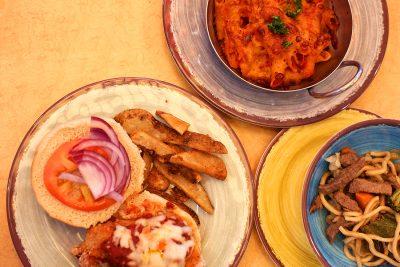 Boston University dining halls are bubbling with changes.
This semester, BU introduced new soda machines, coffee and plates at the Warren Towers and West Campus dining halls. They also added Stubborn Soda stations and Pierce Brothers Coffee this semester, and the previously black-colored plastic plates and bowls have been replaced with rustic-looking pastel options of different sizes and colors.
Additionally, Stubborn Soda, a PepsiCo brand, has paired with BU by adding two of their fountain stations to West Dining Hall and one location at Warren. Stubborn Soda only replaced some Pepsi-Cola stations, so both options are available on campus.
One of Stubborn Soda's goals is to promote healthier soda options, according to their website. The company emphasizes the absence of high fructose corn syrup, artificial flavors and colors, and the presence of Fair Trade Certified cane sugar in almost all of their sodas.
Stubborn Soda offers 12 flavors at each station ranging from classic Root Beer to a Lemon Berry Acai soda.
Another revamp for the dining hall this year is the shift to the local coffee brand, Pierce Bros. Coffee, which originated in Greenfield.
Lisa Tornatore, the director of [email protected], said switching to locally-sourced coffee is one example of how Dining Services is always looking for ways to be more sustainable. Tornatore said [email protected] works with the Dining Services Sustainability Director Alexandra Raczka to meet sustainability commitments.
"We work very closely with [Raczka] and others at BU Dining Services to ensure that the products the Dining services are sourcing are in line with BU's sustainability commitment and BU Dining Services has done a really great job of sourcing sustainable products," Tornatore said. "And when we say sustainable, there is a specific definition of that, which is either third-party-certified or local within a certain mileage."
Sean Pierce, a co-owner of Pierce Bros. Coffee, said the company prides itself on making products of the highest caliber — they boat a kosher certification, Fair Trade Certification and make their coffee from 100 percent organic beans.
"We only find the best, the hardest bean that we can find, all over the world, from farmers from all over the world, so we were highly recommended by other chefs at other colleges in the Boston area, and throughout New England," Pierce said.
Pierce added that college campuses are great destinations for the coffee because he thinks students today tend to be more socially conscious.
"Kids nowadays, I feel, are looking for a higher quality product and with Fair Trade they know that they're consuming something that gives back to the farmers at fair market value, so I think that's important for students," Pierce said. "I know when I was younger, coffee, I think it was Folgers, were standard across the board coffee. There wasn't much expectation for quality of the product."
However, some of the additions to the dining halls were not received well. Where the tableware is concerned, Vanessa Bartlett, a freshman in the College of Communication, said she finds the size of the bowls inadequate.
"The bowls are a little small sometimes for a salad," Bartlett said. "That's my main problem with them. Besides that, they're fine."
Stubborn Soda, in particular, has been met with mixed reviews. Rajwinder Kaur, a freshman in the College of Engineering, said she is not fond of the new soda machines.
"Personally, I'm not really a fan of the flavors and I tried — like tried, tried," Kaur said. "I had my glass, I took a little bit of each, just wanted to test it out, test the waters, but they're sometimes too sweet."
On the other hand, for Melena Rodriguez, a freshman in COM, it's the more outlandish flavors that draw her interest.
"For me personally, I'm [put off] because I'm not much of a fountain drinker in general, but I do want to try [Stubborn Soda]," Rodriguez said. "Coming from a non-soda drinker, saying that I want to try them, that's big."
Abby Roberts, a freshman in the College of Arts and Sciences, has actually had the chance to try the soda and found it passable.
"I think they're fine," Roberts said. "I've only tried the cherry one but I like it fine. I think that in general I kinda like the natural sodas. They're obviously probably a little bit better for you. Not great, still, but probably good that we're putting less chemicals in our systems."
As for the coffee, while Bartlett said she finds the flavor mediocre, the fact that it's local changes her perspective.
"[Knowing the company's based locally] makes me much happier about the coffee actually," Bartlett said. "Because I did a project on where coffee comes from and how awful the coffee industry is in other countries, so that's kind od nice to know that it's made in the U.S."
A previous version of this article quoted Lisa Tornatore as saying sustainable products must be "price-certified" when she actually said "third-party-certified."