The city of Boston is known for so many different things: the Boston Tea Party, Newbury Street, the Patriots and the Wahlberg brothers. However, the thing that truly defines the city is food. From lobster rolls to Dunkin', Boston's cuisine is well-known and widely enjoyed. Time Out Market, which arrived in Fenway this past summer, has taken some of the city's best restaurants and put them all in one place.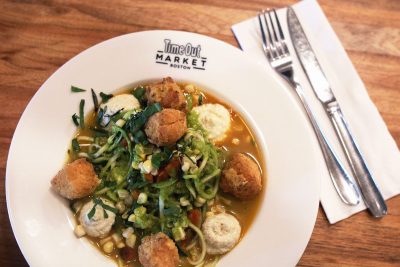 Boston's Time Out Market is just the latest in a long series of markets worldwide. Started in Lisbon back in 2014 by editors at Time Out Magazine's Lisbon branch, Time Out Market places a city's best eateries under one roof.
Didier Souillat, the CEO of Time Out Market, likened the idea of the markets to taking the publication off the page and into the real world. 
"Almost 50 years after the brand launched," Souillat said, "Time Out Lisbon editors had the brilliant idea to bring the magazine to life in a physical space and they got the opportunity to do exactly that in a beautiful historic market hall in the city." 
Their original location, Time Out Market Lisbon, boasted 3.9 million visitors last year. Since opening in 2014, the company has opened markets in prominent cities all over the world. 
"We opened in Miami and New York in May 2019, followed by Boston a month later," Souillat said. "Chicago and Montreal will also follow in 2019 and later on Dubai, London and Prague." 
Souillat cited Fenway's dynamic atmosphere as a place for work and relaxation as the reason it was selected to house the market. Time Out Market Boston resides at 401 Park Drive, formerly the Landmark Center, a 25,000-square-foot space featuring fifteen eateries, two bars, a demo kitchen and a retail shop.
For Souillat, Boston represents a unique culinary scene that works well with the Time Out Market model.
"Boston is a city where the food scene has been steadily evolving and the restaurant scene is very supportive of young local chefs, as are we," Souillat said. "This ensures that there is a constantly growing pool of talent which has allowed us to curate a fantastic lineup for our market."
Heather Costa, owner and head chef of Revolution Health Kitchen, says she was drawn to bring her restaurant to Time Out Market based on its sense of community and shared passion for food. 
"At the party on opening night I remember taking a walk around the market alone and just watching it all happen in front of me like a dance," Costa said. "All of us involved had been working so hard to get to this exciting point of opening night. In that moment I was so proud to be a part of it all."
Costa, who opened the original Revolution Health Kitchen in Back Bay with her husband Dominic in 2015, found the experience of operating in a market place along with other restaurateurs to be rewarding and reflective. 
"Time Out made sure that we were all given the opportunity to showcase our individual menus and concepts," Costa said. "Because of this, we can all appreciate each restaurant for their unique addition to the market."
Isaac Word, a sophomore in the College of Communication, visited the market when it first opened over the summer and has gone back to eat there several times since.
"The atmosphere is great and I love the food-court style set up," Word said. "My favorite place is the Union Square Doughnuts. They have a ton of options, including vegan doughnuts."
Souilat said he influx of talented chefs and restaurateurs Time Out Market has brought to the Fenway neighborhood showcases Boston's steadily evolving food scene and has already proved to be quite successful. 
"After our opening in June, we have seen an exciting mix of guests, both locals and tourists alike, enjoying the great variety of food and unique experience," Souillat said. "Many tell us that Time Out Market is a great addition to this part of the city."