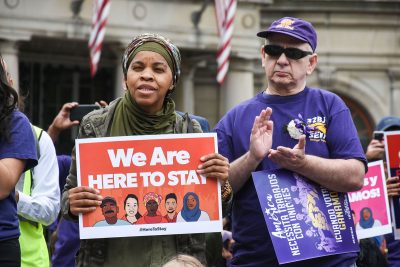 Boston's City Council announced Monday that they passed a resolution opposing a recent decision by President Donald Trump's administration to make it harder for children born overseas to parents serving in the military or working for the federal government in other capacities to obtain American citizenship.
First offered by Councilors Ed Flynn and Lydia Edwards on Sept. 11, the resolution expressed the council's support for the children and families of service members abroad and criticized the president for causing "confusion and stress" for these personnel serving abroad, according to the resolution.
Before the new policy takes effect on Oct. 29, all children born overseas to military personnel are considered to have established residence in the U.S., meaning these children are automatically considered American citizens, according to a policy alert released by the U.S. Department of Homeland Security in August.
But after the policy change, being born to federal workers outside the U.S. no longer qualifies these children as having American residence, requiring their parents to manually apply to register their children as citizens and creating the risk that their applications may be denied, according to the DHS.
These new rules only affect children of federal workers who are either non-citizens or American citizens not considered to have residence within the U.S. — anyone who did not become a citizen by being born in America or being naturalized.
In the resolution, the City Council wrote that this move was one of a series of attempts by the Trump administration to restrict the rights of American immigrants.
"This change represents another attack on immigration and citizenship rights by the Trump administration," the resolution reads. "Those who serve our country should not face hurdles in making sure that their children are U.S. citizens."
City Councillor Kim Janey of District 7 said in an emailed statement that she supported the resolution because she wanted to protect the families of American service member from what she called a "blatant attack on immigration and citizenship rights."
"I stand with the children and families of our military and federal government workers serving abroad and vehemently oppose the administration's policy change," Janey said.
Yusufi Vali, director of the Mayor's Office for Immigrant Advancement, wrote in an email that while the rule change only affected a specific subset of American service members, it still caused undue confusion for many serving abroad.
"I find it disrespectful and counter to our goals as a city and a country to make it more difficult for certain people to be recognized as U.S. citizens," Vali wrote, "more so for children of some members of the U.S. military and some federal government workers serving our country abroad."
Sarang Sekhavat, federal policy director of the Massachusetts Immigrant and Refugee Association Coalition, said he was not surprised by Trump's decision to change the immigration guidelines.
"This is completely in line with this administration's attacks on people," Sekhavat said. "Even people who have dedicated their life and risk their lives to serve this country."
Sekhavat said he was worried the rule change may be sending a message that immigrant service members "are not welcome here."
"So I think so now it's not just the morale of folks who are entering the military," Sekhavat said. "I think the message is that you're just not welcome, even if you're in the military, and this is not the first time we've seen attacks on immigrants who serve in the military." 
However, Sekhavat said he did not think that the resolution would be able to change the current situation.
"Unfortunately, I think they're doing everything they can," Sekhavat said. "It's more a matter of that their ability is frankly pretty limited in what they can do."