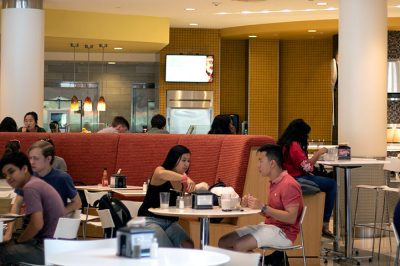 Boston University students in need can now request free guest swipes into BU Dining Halls thanks to the Terrier Meal Share program launched by the Dean of Students. Students with unused guest swipes can choose to donate them to the program to help fellow terriers.
Jason Campbell-Foster, the senior associate dean of students, said the program was designed to help students experiencing food insecurity.
"Our goal is to alleviate the pressure of maybe not having access to meals for whatever reason, while we and our network of colleagues here at the university really focus on supporting the student in any way possible so that food is not the primary concern any longer," Campbell-Foster said.
The Dean of Students office will get the bank of guest swipes from students who donate their extras online, Campbell-Foster said. BU Auxiliary Services has also agreed to match any student guest swipe donation.
In order to receive guest swipes through this program, students are required to fill out an online form from the Terrier Meal Share website, where they give their information and reason for requesting meals.
"The way that we anticipate it rolling out is that students will have at least five meals uploaded if they are in need of it," Campbell-Foster said, "just to give them a few days to settle in and to allow us to really help you know, wrap our arms around what they might need."

Campbell-Foster says he hopes that this program will be able to make food less of a concern for students so they can more easily get support for other aspects of their life as well.
"This is really just our investment in the success of the whole student and to remove any barriers that might be in the way so that we can really support them through alleviating concerns," Campbell-Foster said. "I'm excited about the program, I think it's really going to be an incredible way for students to show generosity to one another."