By Gabriella Finocchio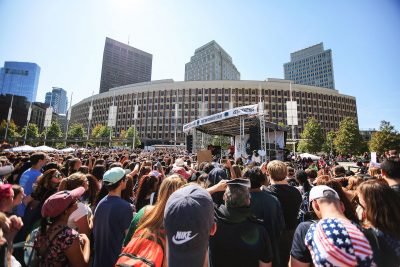 Thousands of Boston area students skipped classes Friday to participate in the Massachusetts Climate Strike — part of a larger global climate strike that saw protests in cities across the world as students and adults sent a message to their state and local governments they were fed up with inaction surrounding climate change.
In Boston, students and older allies first gathered at City Hall Plaza to hear from a wide array of speakers, including city lawmakers and local activists, before marching through Downtown Boston to the Massachusetts State House, where they called on government officials to meet a list of demands.
These demands include the immediate cessation of all fossil fuel infrastructure projects and the enactment of a "state of emergency" due to climate change in Massachusetts.
The Massachusetts Climate Strike was part of a larger global day of action inspired by 16-year-old Swedish activist Greta Thunberg, who has been striking every Friday since August 2018 to raise awareness about climate change, according to the New York Times. Thunberg is currently in the U.S. for the first time since she began her strikes and testified in front of the U.S. Congress earlier this week. 
Thunberg participated in Friday's protest in New York City, which was accompanied by rallies in all 50 U.S. states and protests in major cities worldwide, according to the New York Times. Protesters took to the streets in cities such as Lahore, Pakistan and Nairobi, Kenya while participant estimates swelled to nearly 100,000 in Berlin, Germany and Melbourne, Australia.
At the Boston strike, speakers laid out multiple demands, which include adopting a Massachusetts Green New Deal and ensuring that the concerns of low-income communities and communities of color are front and center in the state's transition to a more climate-friendly economy. 
They explained that their generation of high school and college students have to be the ones to take action before it is too late. 
There were a total of 11 speakers at the event, including local indigenous people, student activists and Boston Mayor Martin Walsh. Many of them recounted personal stories of how they or their families were impacted by the effects of climate change and urged the audience to stay engaged in the movement. 
Boston City Councilor At-Large Michelle Wu said she had full support for the climate change movement and was optimistic that the rally-goers would achieve their demands.
"We know we can do it," Wu said. "But it's going to take each one of us fighting for that brighter, healthier future."
Ilana Cohen, a sophomore at Harvard University and a member of Divest Harvard, a student group calling on Harvard and other educational institutions to divest from the fossil fuel industry, said that divestment enabled the public to combat the fossil fuel industry by refusing to support these companies with their business and investments.
"Divestment lets us take local action with global impact," Cohen said. "Already, over 11 trillion dollars [have] been divested from fossil fuel companies worldwide, including by over 45 U.S. colleges, and now people are reinvesting in sustainable and ethical business for our communities."
Saya Ameli, a 17-year-old activist from Brookline, said that Massachusetts Governor Charlie Baker and other state lawmakers needed to stop letting the fossil fuel industry influence state politics.
"We can save the lives of millions if politicians like Governor Baker have the guts to say 'No more corrupt money from fossil fuels,'" Ameli said. 
Jamie Miller, 24, of South Boston, said she is extremely passionate about climate change and does not understand why our leaders do not feel the same.
"I think it is the most important issue that we face as a world, and it is baffling to me why our politics and our leaders aren't acting like it's an emergency," Miller said.
Although there was high enthusiasm for the cause at the event, attendees reported mixed support from the schools they or their children are enrolled in. 
Gaby Schaab, a 20-year-old student at the Massachusetts College of Art and Design, said that her professors supported the students going to the protest.
"Our professor canceled class for us," Schaab said.
Students enrolled in Boston Public Schools could have their absences excused for the day, but not all high school students in the area had that support. 
Tim Kardatzke, 52, of Cambridge, said that the school district his kids attend would not allow teachers to take students on a field trip to the event, so he took his children himself instead.
"They were going to skip school, so we said, 'Go ahead, but we're going to come with you,'" Kardatzke said. "That's kind of the main reason I wanted to come, to support them."
Find our gallery of the Climate Strike here.