For most people, taking a trip to Fenway Park means taking a break from school. Last weekend, however, the iconic ballpark was home to CollegeFest, an annual event for students across the Boston area to interact with local and international brands.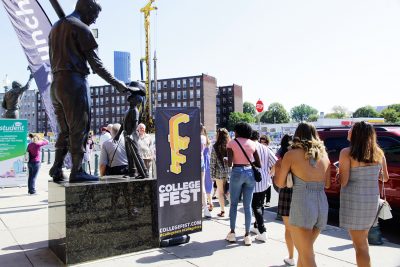 This past weekend the free event, run by Boston-based marketing agency The Campus Agency, attracted more than 11,000 students. 
The festival, marketed as "the biggest back to school party of the year," has been sponsored by local and transnational brands including the Red Sox, L.L. Bean, 5-Hour Energy, GrubHub, Bank of America, Boston.com, Handshake, StudentUniverse, TimeOut Market Boston, Dunkin' and HERE Boston.
Kate Chamberlain, senior manager of StudentVerse, a travel booking site that offers discounted flights, hotels and other travel bookings to students, wrote in an email that events like CollegeFest are a way for her and her company to engage with local college students.
"This is our home too," Chamberlain wrote. "We're passionate about helping college students in Boston take advantage of our great travel deals. We also know that Boston is one of the most popular college towns for out-of-town students, so it's a great place for us to help students get to and from home for less." 
Alongside the brands present at the festival, live music, food and contests were also spread out throughout Fenway for students to enjoy.
Daphne Jennings, a freshman in the College of Arts and Sciences, found the event via the Facebook group for BU's class of 2023 and decided to go with some friends.
"My favorite part was being able to see what sorts of companies were starting up locally in Boston and what kind of events are coming up," Jennings said. "I also loved being at Fenway and checking out the field, plus getting our picture on the big screen."
Paul Tedeschi, CEO of The Campus Agency, attended the first CollegeFest in 1985 during his freshman year at BU. Now, Tedeschi works to ensure students across the Boston area can enjoy and take part in this event. For him, college represents a time to prioritize yourself and your ambitions.
"I'm always encouraging young people who have an idea, an ambition, to give it a go," Tedeschi said. "If nothing else, it might help you land a job at a company because of your ambition, or you might actually find that you are onto something."
Jane Bowman, a representative from Boston.com, spoke at the event about the importance of maximizing one's experiences in college. For Bowman, staying connected with the city one lives in during one's college years is a great way to get involved and learn more about yourself and others. 
"We want students to know where to go so they can live their best life in Boston," Bowman wrote in an email to The Daily Free Press before the event. "Students really do make Boston special, we welcome them to engage with us."
Correction: A previous version of this article listed "StudentVerse" as a sponsor, and has now been corrected to "StudentUniverse."