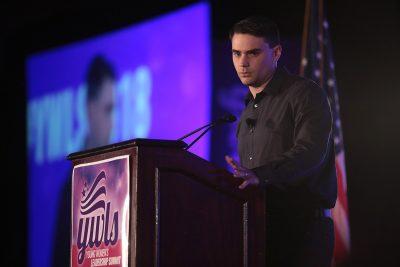 The Young Americans for Freedom at Boston University have been in negotiations with Boston University's administration to secure a venue and security for conservative speaker Ben Shapiro to visit campus. BU has agreed to cover the security costs but said the event must be held in a smaller venue than YAF requested.
YAF requested Shapiro speak at Metcalf Hall in the George Sherman Union, a 1,500-person venue, but BU is requiring the event to be held at Morse Auditorium, a 700-person venue, according to BU Dean of Students Kenneth Elmore.
Elmore said that the venue was changed for security concerns for Shapiro. The Boston University Police Department recommended Morse as a venue because it would be easier to secure. The GSU is a more open space, which would be more difficult and costly to make sure everyone is safe.
"[Shapiro] draws opposition and counter protesters on the outsides of buildings and around buildings and that all had to be considered as a part of it, when you think about what venue or what location you would use," Elmore said. "We're following the reasonable security plan of the BUPD."
Diana Soriano, the president of BU YAF, wrote in an email that they are still trying to negotiate the location of the event.
"BU's security quote is all preemptive," Soriano wrote. "There have been no actual threats. The venue is where our current negotiations are."
BU gave YAF an initial estimate of $12,720 for security costs last week, according to YAF. Soriano said the university later agreed to cover the costs of security.
After the initial estimate was released, YAF's national website published an article stating that the security costs were an attempt to "undermine conservative speakers," a narrative that was also picked up by Shapiro's conservative news site The Daily Wire. Soriano wrote that she thinks these articles led to BU covering the security costs.
"Once we [saw] how ridiculous [the estimate] was (nearly $13,000 of security fees as a base that could potentially grow significantly, and a requirement to cut our venue size in half), we gave our parent organization Young American the go to launch a PR offensive," Soriano wrote.
Elmore said the change in security costs was just a "normal part of the program planning process."
"Students plan programs, and students get a variety of estimates on costs for the program," Elmore said. "And in a case where it's a certain type of speaker, there may be added security costs that are part of the cost of the program."
Shapiro hosts "The Ben Shapiro Show" — a conservative podcast. He has also authored nonfiction books and newspaper columns, worked as an attorney, and is editor-in-chief of The Daily Wire. Shapiro travels to college campuses to speak about politics and his sometimes controversial beliefs.
Shapiro holds multiple controversial views. In a 2014 Youtube video, he said that a majority of Muslims are radicalized. He thinks abortion should be illegal and doctors who perform it should be prosecuted, according to Slate. Shapiro has described homosexuality as a sin, according to Slate, and believes that transgender people suffer from a mental illness, according to ABC News.
If the event happens, BU College Democrats President Nancy Santarsiero said they are planning to hold a peaceful protest on Marsh Plaza.
"I believe that all students at BU deserve the right to freedom of speech, but we also have the right to use our voices to protest," Santarsiero said. "I worry about giving YAF more attention, because that is what they want … We will hold a peaceful protest on Marsh and have a competing fundraiser for LGBTQ rights." 
Elmore said he does not think this is an issue of free speech, just an issue of safety and space availability.
"I know that sometimes this gets spun as a free speech conversation," Elmore said. "I'm not sure that's what it is. In terms of the speech itself or the speaker, I hope that the students can agree we've been fairly neutral about that and this has been more about trying to make sure that we can help them successfully implement a program that they will have been wanting to do for some time."
Murphy Kaphing, a freshman in Sargent College of Health and Rehabilitation Sciences, said she thought that YAF's article saying BU was undermining conservative voices was not a reasonable claim, and that BU's reasoning for moving the venue made sense.
"It seems pretty logical for security reasons," Kaphing said. "I mean, over there, you have doors, and it's just that room, but [in Metcalf], there's multiple ways to get there."
Jack Moriarity, a senior in the College of Communications, said that he believes Shapiro should be welcomed on campus.
"As a listener of Ben Shapiro's daily show I know he is not any sort of violent or hateful speaker," Moriarity said. "BU should be more concerned with allowing different opinions on campus than theoretical protesters … They allowed [Alexandria Ocasio-Cortez] to come and speak, why are they [treating] Ben Shapiro any different?" 
Claire Thomas, a junior in the College of Arts and Sciences, said that safety should be BU's priority.
"Security reasons make sense to me," Thomas said. "I think that the safety of the students is priority, and if there's better safety at one venue, I think that's fair."
Editor's Note: An associate editor at the Daily Free Press is a member of Boston University Young Americans for Freedom. This editor was not involved in the writing or editing of this article in any way.
CORRECTION: In a previous version of this article, the word "prosecution" was mistakenly written as "persecution." The current version reflects these changes.