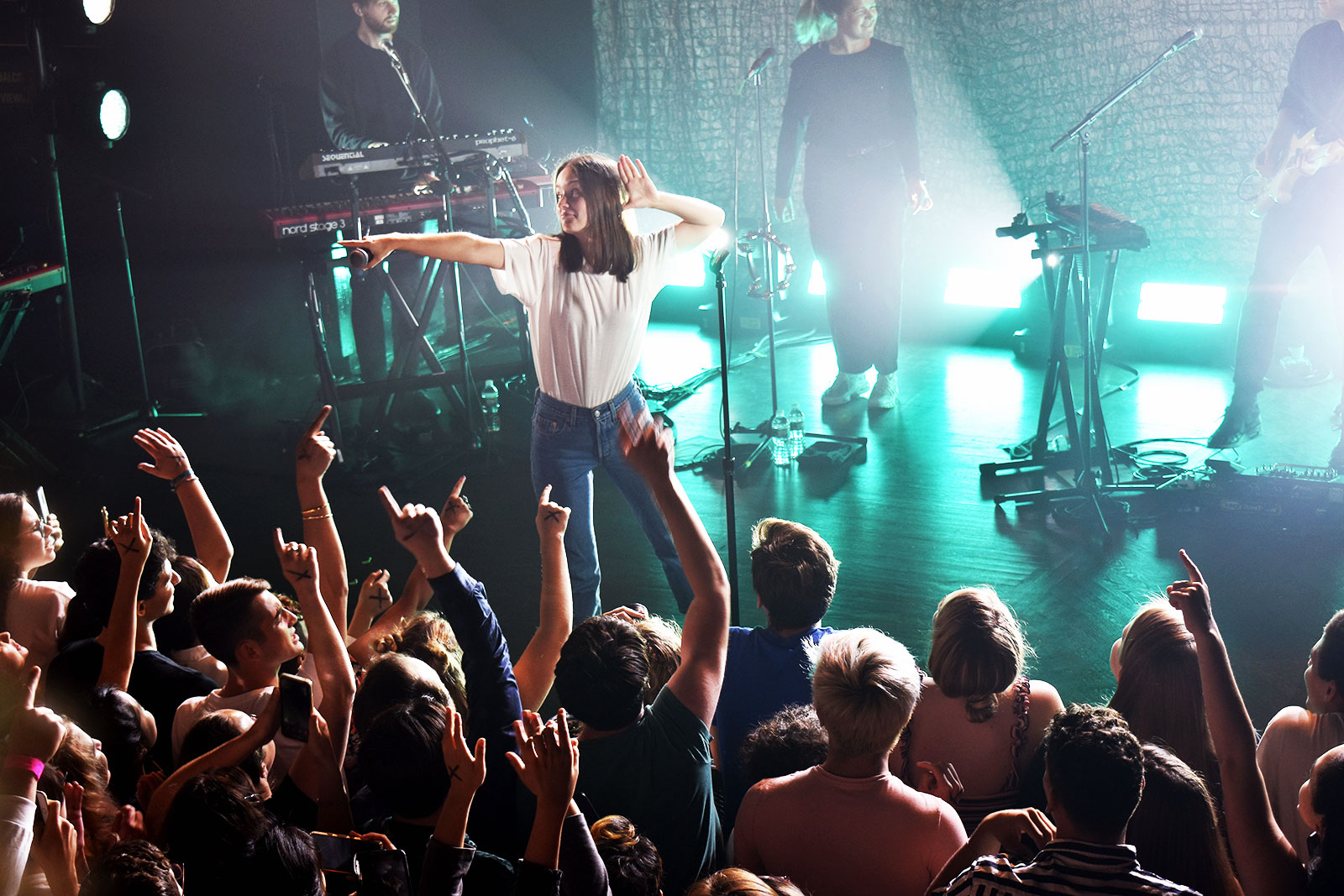 Pop music isn't dead. As it did with ABBA in the '70s, pop music is just hiding in Scandinavia.
Sigrid, a Norwegian pop singer-songwriter best known for her entrancing bops and affection for a plain T-shirt and mom jeans, gave a dazzling and energetic performance as part of her "Sucker Punch" tour Saturday at Paradise Rock Club in Allston.
The 23-year-old singer opened the show with her debut album's titular song, the commanding "Sucker Punch." The song describes the sensation of liking someone so much it feels like you're getting the air knocked out of you — then worrying that you might mess it all up in the end.
What makes Sigrid's music so relatable is that she doesn't write the typical pop songs about heartbreak — her songs evoke specific anxieties of friendship, heartbreak and her career.
For a smaller international artist, Sigrid has an incredibly dedicated fanbase. The audience on Saturday knew every word to all of her songs and the grin she'd give when letting the audience finish the words to a verse instantly translated to higher energy in the room.
Sigrid's stage presence is palpable — she's not a good dancer by any means, but she dances with such enthusiasm to her own music that the audience can't help but dance too.
The singer slowed it down for the second song, giving a transfixing performance of the quiet and sensitive "In Vain," another song about keeping one's heart guarded. The song, carried by a melodic strum of a guitar, transforms with a beat drop into synth beats followed by Sigrid passionately belting, "So don't you stay if you don't mean it/ If you don't feel it."
Every word coming from Sigrid's mouth oozes vulnerability. Following the two songs from Sigrid's debut album, next came "Schedules," a perky single from her EP "Raw" that's simply about being so busy that you don't have time to see someone, but you find a way to make it work anyway. What more can you expect from Sigrid, a Virgo, than a song about planning? Who doesn't love a productive queen?
Next came "Plot Twist," one of Sigrid's earlier works from her 2017 EP "Don't Kill My Vibe," which is a classic diss towards someone the singer has distanced herself from. "Do you need me to spell it all out?/ You screwed it up plot twist, moved on and now you want me."
Experimental, video game-esque sounds pepper the background of the next song "Business Dinners," topped off with Sigrid's crystal-clear vocals. Then followed "Sight Of You," a song Sigrid herself has said is an ode to her fans. The audience clearly understood, with the crowd belting along to every word.
Sigrid let the audience handle the build up to the chorus of "Don't Kill My Vibe," the empowering single that catapulted the singer to international fame.
"Okay, let's hear it," Sigrid said into her microphone, pointing to the crowd to do their thing. "Louder Boston!" she yelled and Boston in fact got louder.
The singer showed off her soprano range in "Level Up," a subdued song with the plucking of a guitar driving behind Sigrid's soft vocals. The song was followed by "Go to War," a track that, despite being unreleased, was known by the crowd instantly from past online videos of her performing it live.
Clapping and swaying her hips, Sigrid followed with "High Five," an piano-driven anthem and diss track about someone who is far too full of themselves. Then came "Mine Right Now," a glimmering beat-heavy disco track about a relationship with an expiration date.
Sigrid then sat down at the piano for "Dynamite," an emotional ballad about loving someone who you've grown apart from and become bad for. "Oh, I wish we had a common view/ You see my red as blue." It's the singer's most hard-hitting song, with perhaps her most illustrative lyrics. Highlighted by powerful vocals that the crowd accompanied, it was one of the best moments of the night.
For the final few songs of the show, Sigrid picked up the pace with some of her best bops. First came "Basic," then purple-lights hit the performer as she sang the shimmering "Never Mine," a bass-driven masterpiece with an '80s feel and a chorus you lose yourself in.
The second-to-last song of the night, the 2017 single "Strangers," is one of the pop star's most popular hits, and deservingly so. The song is enchanting — a dream-like opening verse leading to a thumping, electric chorus. "Strangers" is meant for a dance floor, which is what the floor at Paradise became as pink flashing strobes illuminated Sigrid as she bounced around the stage.
Sigrid wrapped up the night with "Don't Feel Like Crying," an ode to pushing away heartache and moving on, until of course the pain eventually returns. "Wallowing in it would be such a waste/ that isn't going to fix it anyway," the crowd chanted with the singer. In that moment, it truly felt like Sigrid's infectious tracks could get you through anything.