It's not too often that a world-class composer and a pioneer in experimental documentary filmmaking sit down to discuss the process, impact and legacy of their 42-year collaboration.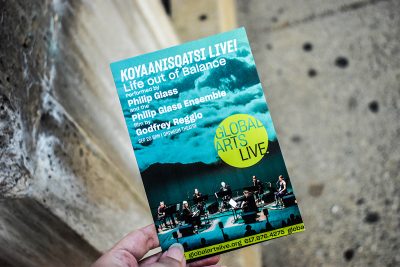 Godfrey Reggio and Philip Glass, the director and composer of the Qatsi trilogy, visited WBUR CitySpace Thursday. Moderated by Harvard Film Archive Director Haden Guest, the pair intimately discussed the evolution of their kinship and of each film. 
Released between 1982 and 2002, each film draws its title from the Hopi Indian language. Koyaanisqatsi, life out of balance, Powaqqatsi, life in transition, and Naqoyqatsi, life as war, use only visuals and music to illustrate humanity's obsession with technological prowess and its relationship to the environment.
Each film is a flowing work of timelapses, slow-motion shots and visual manipulation that creates a duality of exhilaration and overwhelmingness. For reference, Guest played a short clip from Koyaanisqatsi of a frenzied urban commute. 
"Timelapse was a grammatical syntax in order to view what the subject matter of the film is," Reggio said.
Koyaanisqatsi, released in 1982, defined Reggio's filmmaking style, of which one aspect is the lack of narration. This was for two reasons, Reggio said. One, the subject of Koyaanisqatsi had more to say than could be articulated and two, that our technologically dominant world is least seen because it is most present.
Reggio thus sought a composer whose music could serve as the narration, not decoration, he said, and eventually discovered Glass — the "quintessential collaborator." Glass told the audience that his prior composition for visual art in theater and opera had prepared him for scoring a film whose movement was grounded in movement. 
"I had no intention of working with Godfrey until he wanted my music," Glass said. "This became one of the most profound collaborations because it's been going on for 40 years." 
"42," Reggio corrected. 
Glass is a self-proclaimed 'composer of repetitive structures' and, as such, his score of Koyaanisqatsi is most notable for being undulating and repetitive in accompanying sequences of bustling movement. 
One of Reggio's primary intentions for the Qatsi trilogy is for viewers to determine for themselves what to take away from each work. The films' imagery and Glass' soundtrack only comprised two-thirds of the experience, Reggio said. 
"The music carries you into the image," Glass said. "Each person has a unique experience, and they're supposed to have a unique experience."
Glass likened the audio-visual elements of Koyaanisqatsi to two rivers flowing alongside one another with occasional moments of complete synchronization. That mesh of creative worlds by means of Reggio and Glass' respective talents creates the joy of collaboration, they both said. 
Reggio's decades-long commitment to the Qatsi trilogy reflects his filmmaking philosophy, which is that of creative obsession. Reggio advised to never take up filmmaking unless there is nothing else one could do. 
"One has to be obsessed to be a filmmaker," Reggio said. "One is committed not with grace and gratuity but to an insane asylum to make a movie. If I forget it, it remembers me." 
For the filming of Powaqqatsi, the film's three crews traveled to 13 countries, Reggio said. As bound as Reggio was to these films so too was Glass, who was present for every day of production for the last two films — a relationship not often found between director and composer, Reggio said. 
"We wanted to be involved in the subject matter, not be in the studio," Glass said.
The renowned collaborators were well-received by a sold-out room of music and film enthusiasts alike, several of whom traveled from out-of-state to see the two artists.
Parry Silcox, 46, and Joelle Lee-Silcox, 42, of Miramar, Florida, flew to Boston for both the conversation at CitySpace and for Friday's viewing of Koyaanisqatsi at the Orpheum Theatre. Silcox said that Koyaanisqatsi holds a special place in his heart and for him it was "the film that changed film."
"I will say it helped shape my worldview on everything: politics, environment, industrialization, globalization. It has, at different times in my life, continued to shape that," Silcox said. 
Lee-Silcox explained that another reason they came to Boston was for their podcast "You Haven't Seen What?," whose purpose is to watch and discuss films one partner has seen that the other hasn't. 
"If I don't like [Koyaanisqatsi], well, we're married now, it's a little bit of a dealbreaker," Lee-Silcox said. "Can you imagine your favorite film and whoever you're with not loving it in the same way? That's challenging." 
As the discussion wound down, Glass announced that another collaborative effort with Reggio is in the works. 
"I can say that we're involved in a movie," Glass said. "It could be an opera. [Reggio] likes the idea of the opera, I actually like the idea of the film, but we'll end up doing them both, I think."
"As the films don't age, as you can see, Philip and I have become millennials," Reggio said.
Correction: previous version of this article had the word "they" instead of "one."