The Boston University men's soccer team took a short trip over to Parsons Field in Brookline Tuesday night looking to earn their first victory of the season against Northeastern University (5-2-1), but came away with an upsetting 1-0 loss. This is BU's third double-overtime loss of the season.
 The Terriers (0-7-1, 0-1 Patriot League) were defeated in the final seconds of a long-fought battle after a penalty was called when Northeastern freshman forward Jacques Baldwin fell to the ground with 14 seconds left on the clock. Freshman Timothy Ennin took the penalty kick, placing it in the lower left corner of the goal.
 BU head coach Neil Roberts and his players were visibly upset with the call that led to the game-winning goal both on the field and after the game.
 "Anybody that's gonna make that call with 14 seconds to go … I mean, what are you gonna do?" Roberts said. "I mean, the referee didn't call it, the linesman called it. What can you do?" 
 A crucial moment in the game for the Terriers came when BU sophomore Florian Rieder suffered an injury on the field during the second half after a collision with Huskies' Adama Kaba. Roberts ran over to the scene where Rieder lay on the ground clutching his left leg and exchanged words with the referees, saying that Rieder was hit from behind. 
 This play was what upset Roberts more than the last-second penalty call. 
 "I'm more upset with when Flo got hurt, the guy came back from behind and just went right down and probably put him out for the season, and nothing was done about it," Roberts said. "That bothers me more."
 Roberts said Rieder most likely tore ligaments in his leg and will be out indefinitely.
 The Terriers experienced another injury after junior goalkeeper William Bonnelyche collided with an opponent going for a ball in the air and fell hard to the ground. Roberts said Bonnelyche suffered a concussion.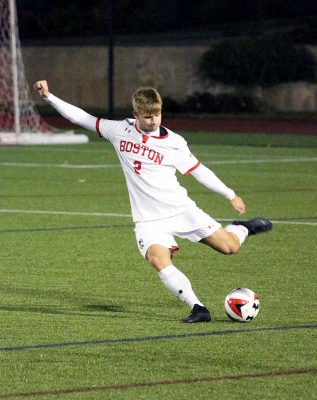 The first half was an even battle between the two teams. Northeastern's first big chance came in the twelfth minute off a penalty kick from sophomore midfielder Jacob Marin-Thomson. BU had nine saves overall compared to six for the Huskies.
BU's closest chance came off a corner kick from freshman midfielder Marc Roura. The ball sailed across the face of the goal to freshman attacker Jacopo Ambrosetti, who connected well but Noah Abrams did well to keep it out. Ambrosetti led the Terriers offense with five shots.
 Northeastern forward Benjamin Klingen was a constant threat to BU's defense, creating numerous chances and registering five shots. 
 Despite falling to their third double overtime defeat of the season, Roberts was satisfied with the team's performance. 
 "They battled. They battled like they've been doing all year," Roberts said. "They're young. We started with six or seven freshmen and sophomores, and they're battling, and they're creating chances, and they're working as hard as they can work. I can't fault them a bit. I think they're very unlucky, and they got the short end of it this time."
 The Terriers have a chance to bounce back this weekend in a conference matchup against Lehigh University (5-2, 1-0 Patriot League). Lehigh will come into the game this weekend off a 2-1 win today at the University of Pennsylvania.