When it was established in 1969, the African American studies graduate program at BU was the first of its kind at the university. This year, the program is celebrating its 50th anniversary. While its membership has peaked at four students at a time, the program has had a lasting impact on the students and faculty who have taken part in the program over the years.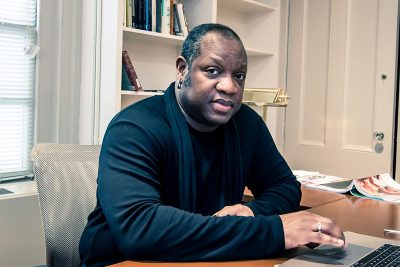 The African American studies program is an interdisciplinary program, with individual courses open to both graduate and undergraduate students. Louis Chude-Sokei, the program director and an English professor in CAS, said BU is a great fit for the program.
"It seemed as if this campus had a lot of resources that could feed into something like this — arts and culture and great political movements happening in colleges," Chude-Sokei said. "BU seemed like the right place to synthesize all of this."
As the program celebrates its 50th anniversary, Chude-Sokei said he has reflected on the positive progress the program has made and has enlisted a new set goals he hopes to accomplish in the coming years.
"We hope to continue the graduate program and grow in faculty affiliation so we have more than enough," Chude-Sokei said. "We hope there will be change in study of race, sexuality and immigration. We are in a position to do that."
While Chude-Sokei emphasized the program's aim to increase its numbers, Edwards focused on the benefit of making the program a more significant part of the community.
"I would like us to be more central to campus physically, but integral in the sense of when people think of BU when people think of the most influential programs at BU, the first thing they say is this program," Edwards said. "If this program were to disappear, BU would hurt."
Despite it beginning in 1969, professor of African American studies John Thorton said the program didn't really gain momentum until 2000, when former BU President John Silber decided to revise the program.
The program's success has been in large part due to the efforts of the faculty and students, Thornton said. One of the projects for graduate students includes having to defend a major paper through public presentations. Such rigorous requirements have challenged the students' academic endurance as well as introspective abilities, Thorton said.
The program staff is diverse staff, Thorton said, specializing in all different fields of history. Thornton, for example, is an expert in Africanist precolonial history and, as of his employment at BU, has expanded his knowledge into the category of African American history.    
Diversity, according to the professors and leaders of the program, means including both an array of ethnicities within the curriculum as well as a variety of students studying different disciplines. 
Program alumna and College of Arts and Sciences graduate Rachel Edwards said students taking classes within the program come from all different colleges on campus.
"There are so many people in this program who are not just studying African American history but STEM or theater," Edwards said. "Different communities get to interact in a way that is productive and catalyzes change." 
Mary Anne Boelcskecy, director of undergraduate studies and senior lecturer at the Master's level, is an expert on African American literature and one of the reasons why Edwards said she joined the program. 
"During my first few weeks at BU I met Professor Bolcskevy at the George Sherman Union," Edwards said. "She was there smiling at me and asked about what I'm excited about."
Edwards said she instantly recognized how Boelcskevy valued sincerity and, after completing an African American literature course, joined the program. 
"The program was the quintessential part of my experience at BU," Edwards said. "When I came in the connections felt transient, but when I left I felt strong connections."